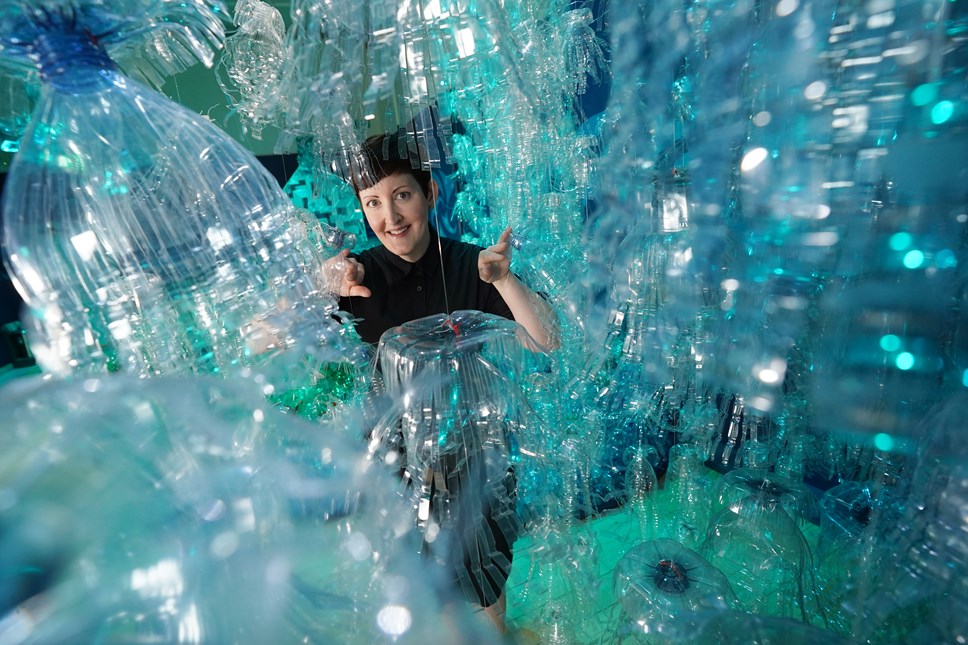 Climate-themed exhibition of Oceanic art to open at the National Museum of Scotland
A new exhibition, Rising Tide: Art and Environment in Oceania opening this Saturday at the National Museum of Scotland showcases artworks created in response to the climate crisis in Australia and the Pacific Islands.
Saturday 12 August 2023 to Sunday 14 April 2024
National Museum of Scotland, Chambers Street, Edinburgh
Admission: Free
nms.ac.uk/risingtide
A selection of press images are available here.
A short video interview with Maori artist George Nuku can be downloaded here
Rising Tide: Art and Environment in Oceania (12 August 2023 – 14 April 2024) delves into the most important and pressing issue of our time, humanity's damaging relationship with planet Earth. This is felt especially deeply in Australia and the Pacific Islands where sea levels are rising due to climate change and the oceans are filling with plastic.
The exhibition hosts the latest version of artist George Nuku's installation, Bottled Ocean 2123, which imagines the state of the oceans 100 years into the future in an immersive, undersea landscape crafted from single use plastic bottles. The artwork will address humanity's unsustainable relationship with single use plastic, highlighting its impact on the natural environment and asking audiences to rethink their relationship with it. It was created with the assistance of around 400 people including museum visitors, staff and volunteers from youth and community groups across Edinburgh. The opening of the exhibition coincides with the withdrawal from sale of plastic-bottled water at the National Museum of Scotland.
Rising Tide also marks the first display in Europe of a set of five kimono which make up an artwork entitled Song of Samoa, by internationally renowned artist Yuki Kihara, newly acquired by National Museums Scotland with the support of Art Fund.
This exhibition considers our relationship to the natural environment through contemporary responses to climate change and plastic waste by Indigenous Australian and Pacific Islander artists. Examples include work by master fisherman Anthony C Guerrero, who uses historic weaving techniques to make contemporary baskets from plastic construction strapping that is found littering his local beach in Guam.
The vulnerabilities of Oceanic countries to climate change are highlighted, whilst showcasing the strength and resilience of their diverse communities. Alison Clark, Senior Curator of Oceania at National Museums Scotland said:
"This exhibition takes visitors on an important journey of reflection and action. While Oceania may be far away from Scotland, the issues of rising sea levels and plastic pollution are global and their effects are also felt here in the UK. The exhibition presents a diverse range of responses from individuals in Oceania to climate threats that are relevant to our own lives. Whilst the climate change threat is both real and immediate, this exhibition also provides a sense of optimism for the future."
Rising Tide also features historical material from National Museums Scotland's collections, such as spear points from the Kimberley region of Western Australia made by Aboriginal men from discarded glass bottles. A recurring theme throughout the exhibition, these spear points demonstrate that Indigenous peoples in Oceania have always innovated, using materials found in their environment to make cultural objects.
Rising Tide: Art and Environment in Oceania is part of Edinburgh Art Festival, taking place between 11–27 August 2023.
edinburghartfestival.com/eaf-2023/
@edartfest
#EdArtFest
Notes to editors
  1. National Museums Scotland is one of the leading museum groups in the UK and Europe and it looks after collections of national and international importance. The organisation provides loans, partnerships, research and training in Scotland and internationally. Our individual museums are the National Museum of Scotland, the National Museum of Flight, the National Museum of Rural Life and the National War Museum. The National Museums Collection Centre in Edinburgh houses conservation and research facilities as well as collections not currently on display.
Twitter: @NtlMuseumsScot 
Facebook: www.facebook.com/NationalMuseumsScotland 
Instagram: @NationalMuseumsScotland 
Bheireadh Oifis nam Meadhanan eadar-theangachadh Gàidhlig den bhrath-naidheachd seachad do bhuidhinn mheadhanan bharantaichte. Cuiribh fios do dh'Oifis nam Meadhanan airson bruidhinn air cinn-latha freagarrach.