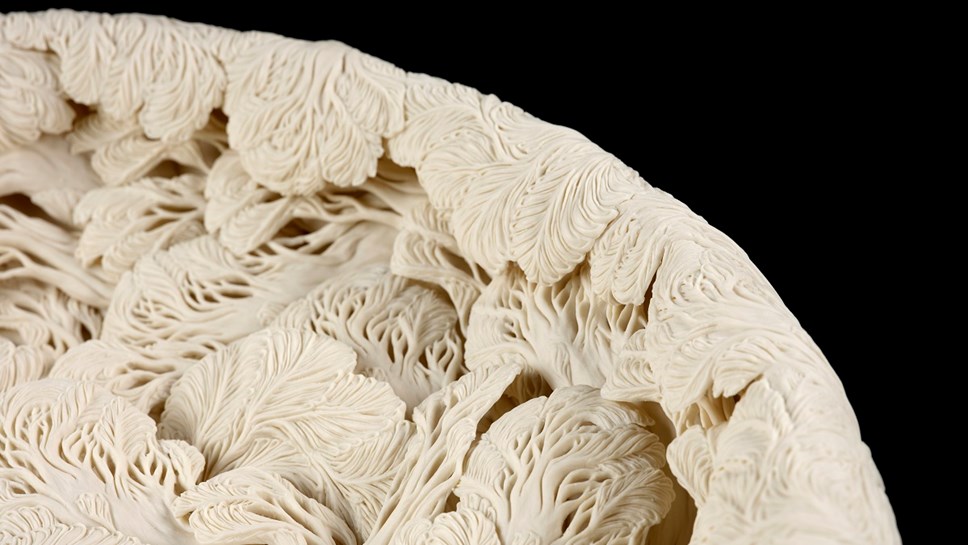 Japanese Contemporary Design
6 May 2022 to 5 March 2023
National Museum of Scotland, Chambers Street, Edinburgh
nms.ac.uk/JapaneseDesign
#JapaneseDesign
A selection of press images are available here.
A new artwork by ground-breaking Japanese artist Hitomi Hosono will be unveiled in a display at the National Museum of Scotland. Japanese Contemporary Design (6 May 2022 – 5 March 2023), will showcase developments in art, craft and design in Japan over the past 50 years. Hosono's spectacular A Large Pine Tree Pool has recently been acquired for the National Collection and will be shown for the first time.
From striking statement jewellery to glass and porcelain sculptures, this free display will explore the rich and varied practice of Japanese contemporary designers over five decades. Cultural events associated with the 1964 Tokyo Olympics prompted Japanese makers to take notice of international design. The artists represented in the display reflect the developments of the following 50 years, combining traditional artisanship and themes with new materials, inspiration and techniques.
A more diverse range of makers has also emerged in Japan in recent years. Ceramicist Hitomi Hosono is one of the highly skilled female artists breaking into historically male-dominated disciplines. This follows a move away from the traditional apprenticeship-based system and the long-established custom of the eldest son taking over from his father. Japanese Contemporary Design will include an equal number of works by female and male makers, shining a light on some remarkable artisans who have previously been overlooked.
Dr Louise Boyd, Curator of the Japanese and Ainu collections at National Museums Scotland, said:
"This display will highlight the extraordinary skill and diversity of contemporary Japanese makers. The objects exhibited represent recent developments in the art world, both in Japan and internationally. I am particularly delighted to include Hitomi Hosono's remarkable A Large Pine Tree Pool, on display for the public to enjoy for the very first time."
Further highlights include Junko Mori's intricate New Pinecone Silver Organism. Nature is often seen as a fundamental element of traditional Japanese culture, but Mori incorporates new methods and forms influenced by studying and working in the UK. Striking examples of contemporary jewellery designs will also be showcased. Adapting metalworking and engraving techniques traditionally used in the making of Japanese sword fittings, jeweller Suō Emiko has created colourful graphic pieces to adorn the body.
Japanese Contemporary Design is part of Edinburgh Art Festival, taking place between 28 July and 28 August 2022.
edinburghartfestival.com/hello-2022
@edartfest
#festivalcity
Notes to editors
About National Museums Scotland
National Museums Scotland is one of the leading museum groups in the UK and Europe and it looks after collections of national and international importance. The organisation provides loans, partnerships, research and training in Scotland and internationally. Our individual museums are the National Museum of Scotland, the National Museum of Flight, the National Museum of Rural Life and the National War Museum. The National Museums Collection Centre in Edinburgh houses conservation and research facilities as well as collections not currently on display.

Twitter: @NtlMuseumsScot
Facebook: facebook.com/NationalMuseumsScotland
Instagram: @NationalMuseumsScotland

2. Bheireadh Oifis nam Meadhanan eadar-theangachadh Gàidhlig den bhrath-naidheachd seachad do bhuidhinn mheadhanan bharantaichte. Cuiribh fios do dh'Oifis nam Meadhanan airson bruidhinn air cinn-latha freagarrach.