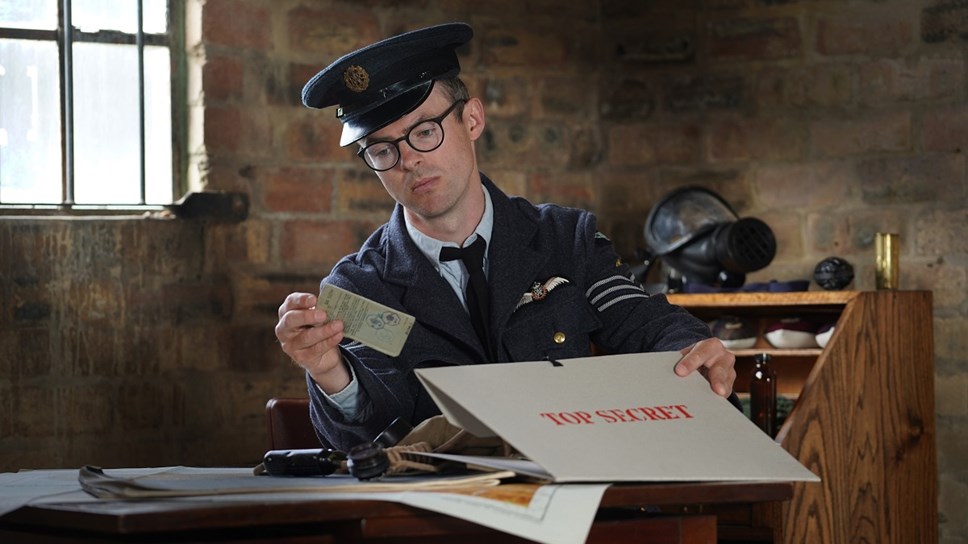 National Museum of Flight launches new escape room experience
Scotland's only escape room on an historic airfield launches this week at the National Museum of Flight in East Fortune. Operation Sabotage has been developed in collaboration with young people aged 16-25 as part of the Scotland 365 project and will take place from 5-14 August.
Press images are available here.


Inspired by its location on the UK's best-preserved Second World War airfield, Operation Sabotage will transport visitors back in time to 1942.


A series of fiendish puzzles have been created inside one of the original wartime outbuildings on the former RAF base. In a race against the clock, teams of 4-8 people will need to decipher the identity of a mysterious saboteur and prevent a devastating attack on the local town of North Berwick.


Claire Allan, Engagement Manager at National Museums Scotland, said:
"I'm delighted to offer such an innovative way to connect with the remarkable history of East Fortune airfield. Thanks to the creativity of the young participants in the Scotland 365 project and the generosity of the National Lottery Heritage Fund, this experience will be brought to life for new audiences."


Caroline Clark, Director for Scotland, The National Lottery Heritage Fund, said:
"By listening to the voices of young people, National Museums Scotland is actively engaging the next generation with Scotland's heritage. Operation Sabotage is just one of the innovative outcomes of Scotland 365 and it's thrilling to see the creativity of these young people in action."

"We were pleased to support Scotland 365 as part of the Heritage Fund's UK wide Kick The Dust programme which, thanks to money raised by National Lottery Players, has been very successful in involving young people in exploring and delivering new ideas on how to engage future generations with our shared heritage."


Operation Sabotage
Friday 5 – Sunday 14 August 2022 (except Tuesday 9 August)
Start times: 10:30, 12:00, 14:00, 15:30
From £15 per person, including general admission to the museum
Ages 14+


Tickets can be booked online at nms.ac.uk/operationsabotage
The Scotland 365 project is supported by the National Lottery Heritage Fund.
Notes to editors
About the National Museum of Flight
Located on the UK's best-preserved Second World War airfield, the National Museum of Flight in East Fortune is home to a world-class collection of aircraft, from a Supermarine Spitfire to Concorde. It explores the history of aviation from the First World War to the present day through interactive galleries, supersonic experiences and historic hangars.
The National Museum of Flight is open seven days a week from 10am until 5pm.

General Admission: Adult (16+) £12.50, Conc £10.50, Child  (5-15) £7.50, (under 5's free).
Family ticket £33 (2 adults and 2 children).
National Museums Scotland members free.

Find more information and book tickets online at nms.ac.uk/flight
2. About the National Lottery Heritage Fund
Using money raised by the National Lottery, we inspire, lead and resource the UK's heritage to create positive and lasting change for people and communities, now and in the future. www.HeritageFund.org.uk.
Follow @HeritageFundUK on Twitter, Facebook and Instagram and use #NationalLotteryHeritageFund
Since The National Lottery began in 1994, National Lottery players have raised over £43 billion for projects and more than 635,000 grants have been awarded across the UK
Kick The Dust was launched by The National Lottery Heritage Fund in 2016, as a £10million investment to make heritage relevant to the lives of young people aged 11-25. https://www.heritagefund.org.uk/blogs/what-kick-dust
3. About National Museums Scotland
National Museums Scotland is one of the leading museum groups in the UK and Europe and it looks after collections of national and international importance. The organisation provides loans, partnerships, research and training in Scotland and internationally. Our individual museums are the National Museum of Scotland, the National Museum of Flight, the National Museum of Rural Life and the National War Museum. The National Museums Collection Centre in Edinburgh houses conservation and research facilities as well as collections not currently on display.

Twitter: @NtlMuseumsScot
Facebook: www.facebook.com/NationalMuseumsScotland
Instagram: @NationalMuseumsScotland
4. Bheireadh Oifis nam Meadhanan eadar-theangachadh Gàidhlig den bhrath-naidheachd seachad do bhuidhinn mheadhanan bharantaichte. Cuiribh fios do dh'Oifis nam Meadhanan airson bruidhinn air cinn-latha freagarrach.