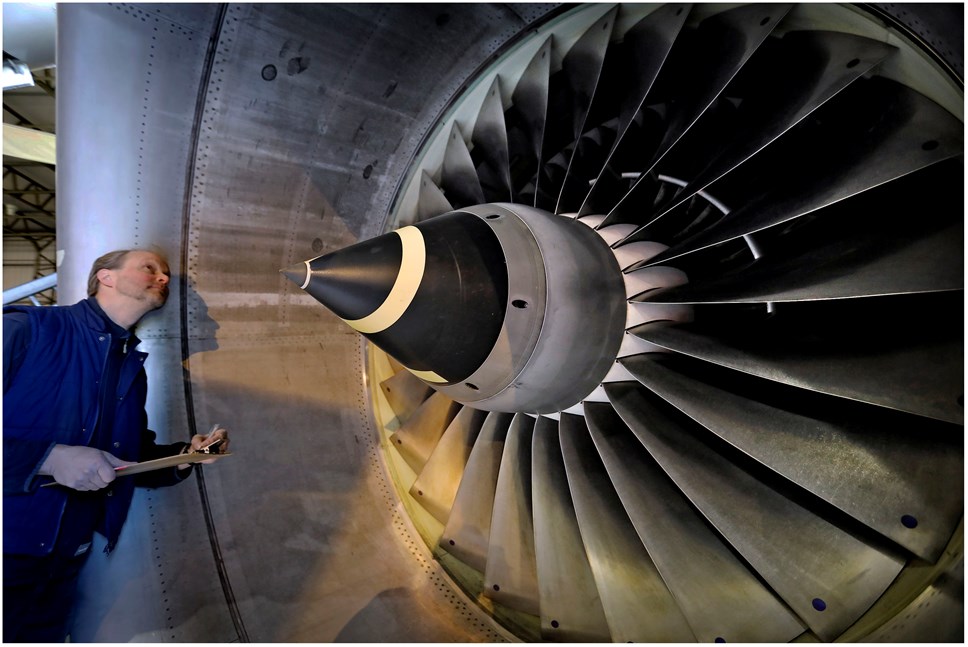 National Museum of Flight marks new season with 747 engine arrival
The National Museum of Flight at East Fortune has taken delivery of a recently-acquired Boeing 747 engine which will go on display from Saturday 1 April when the East Lothian attraction resumes seven-day opening for the new season.
Press images are available here.
Weighing around 6.5 tonnes, the Rolls Royce RB211-524H turbofan engine will help the Museum tell the story of the Boeing 747 aircraft, which first took to the skies in 1969 and revolutionised long-haul air travel. As the first wide-bodied commercial passenger jet, it could transport increased passenger numbers, allowing ticket prices to be much lower and making air travel affordable for many more people. In 2020, British Airways decided to withdraw its 747-fleet due to the impact of Covid-19 on air travel.
The 747-engine will be displayed next to Scotland's only Concorde aircraft and beside the Museum's Red Arrows Hawk.
In addition to the new acquisition, this season at the National Museum of Flight will see the return of the attraction's Second World War-themed Operation Sabotage escape room for over 14s. The Museum will also be running a number of family events from 10-14 April as part of the Edinburgh Science Festival, including a tour examining aircraft in the civil aviation hangar, and a technical challenge to build a glider.
The popular Awesome Bricks LEGO® event returns on Fathers' Day weekend (17 and 18 June) and offers the chance to see objects built by experts and adult LEGO® fans as well as an opportunity for visitors to build something themselves. Running from 5 August–5 November, the Museum will host Brick History, another celebration of LEGO® that uses the bricks to create scenes from history. The event includes a Big Build weekend on 26 and 27 August.
The National Museum of Flight is located on the UK's best-preserved Second World War airfield and families will also be encouraged to explore outdoors at the historic site through a special Summer Satchels initiative supported by players of People's Postcode Lottery.
Visitors will be able to explore the rest of the Museum's exciting displays telling the stories of military and civil aviation over the past century. They can use the interactive exhibits in the family-friendly Fantastic Flight gallery to discover how aeroplanes fly and can learn about East Fortune's wartime heritage in the attraction's Fortunes of War exhibition.
Steve McLean, General Manager at the National Museum of Flight, said:
"The National Museum of Flight contains some incredible aircraft and objects, each with a fascinating story to tell so we're delighted to be able to add to our collection with this newly-acquired 747-engine. Its development enabled cities and countries to be connected in a way that wasn't previously possible and opened up huge travel and business opportunities. The new arrival helps to cement our position as one of Europe's major aviation museums and, together with our events programme, provides another great reason to visit this year."
The National Museum of Flight is currently open at weekends from 10am until 4pm and will be open seven days a week from 10am until 5pm from 1 April 2023
Book in advance to save.
Adult tickets from £13, National Museums Scotland Members free.
15% off when you book as a family.
Tickets can be booked online at nms.ac.uk/flight
Further information and images from: Karen Finlay, Artisan PR on 07803 945043 or karen@artisanpr.co.uk
Notes to editors
National Museums Scotland is one of the leading museum groups in the UK and Europe and it looks after collections of national and international importance. The organisation provides loans, partnerships, research and training in Scotland and internationally. Our individual museums are the National Museum of Scotland, the National Museum of Flight, the National Museum of Rural Life and the National War Museum. The National Museums Collection Centre in Edinburgh houses conservation and research facilities as well as collections not currently on display.
Twitter: @NtlMuseumsScot
Facebook: www.facebook.com/NationalMuseumsScotland
Instagram: @NationalMuseumsScotland
Bheireadh Oifis nam Meadhanan eadar-theangachadh Gàidhlig den bhrath-naidheachd seachad do bhuidhinn mheadhanan bharantaichte. Cuiribh fios do dh'Oifis nam Meadhanan airson bruidhinn air cinn-latha freagarrach.