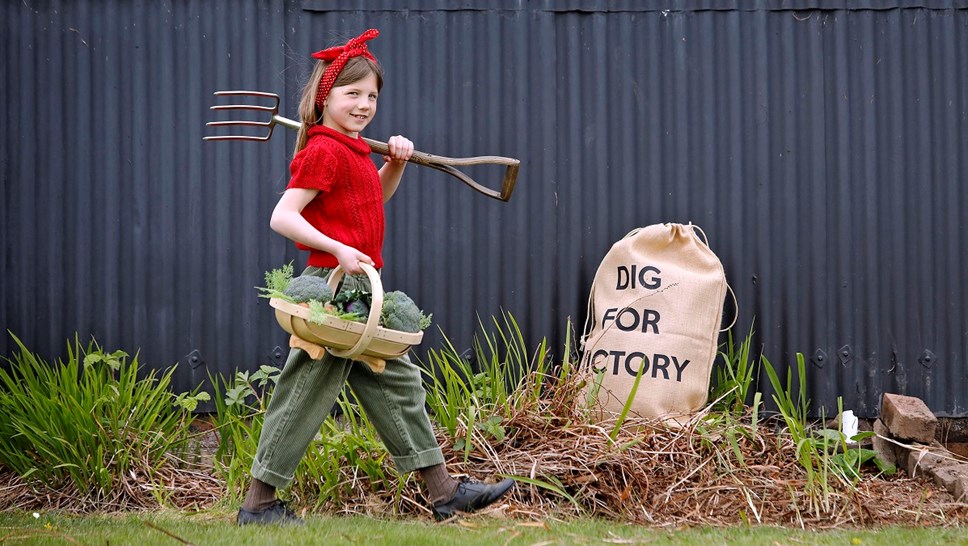 National Museum of Flight prepares to Dig for Victory
Inspired by its location on an atmospheric Second World War airfield, the National Museum of Flight at East Fortune, East Lothian will host a special Dig for Victory event on Sunday 8 May.
A selection of press images are available here.
Supported by players of People's Postcode Lottery, Dig for Victory will use talks, tours, demonstrations and hands-on family activities to explore how people grew and cooked their food during the Second World War.
Visitors can hear food historian Nichola Fletcher explain the challenges of wartime cooking and the innovative ways people coped with limited access to ingredients due to rationing. Talks on the Lost Allotments of East Fortune will include archive photos of the airfield and descriptions of how fruit and vegetables were grown there during the war years.
Visitors can also sign up for a walking tour of the site to discover what it was like to live and serve at RAF East Fortune. Hands-on activities available on the day include the chance to make a flower seed bomb and to plant a seed in a paper pot to grow at home.
The support of players of People's Postcode Lottery means that Dig for Victory is free with Museum admission. All of the National Museum of Flight's attractions will be open to explore including the Fortunes of War exhibition which recounts the airfield's history through photographs, film, personal testimony and unique artefacts. Visitors can see an example of the iconic Spitfire that played such an important role in the Second World War in the Museum's military hangar and can visit more recent aircraft including Scotland's Concorde.
Families can also explore the science of aviation and discover how aeroplanes fly in the Fantastic Flight gallery with its popular interactive exhibits.
Steve McLean, General Manager at the National Museum of Flight, said:
"The National Museum of Flight is located on the UK's best-preserved Second World War airfield and still features a number of buildings from the period, including historic wartime aircraft hangars. The people who lived through the war were brave and resilient but also very resourceful and we're delighted that players of People's Postcode Lottery are helping us to share this part of their story with visitors of all ages."
Laura Chow, Head of Charities at People's Postcode Lottery said;
"This Dig For Victory event is a fascinating and fun way to learn about the history and challenges of providing meals on the home front during the Second World War. We're delighted that players of People's Postcode Lottery can offer visitors to the National Museum of Flight the chance to step back in time and explore this fascinating aspect of our country's wartime past."
The National Museum of Flight is open seven days a week from 10am until 5pm.
General Admission: Adult (16+) £12.50, Conc £10.50, Child (5-15) £7.50, (under 5's free).
Family ticket £33 (2 adults and 2 children).
National Museums Scotland members free.
Tickets can be booked online at nms.ac.uk/flight
Notes to editors
Further information and images from: Karen Finlay, Artisan PR on 07803 945043 or karen@artisanpr.co.uk
Notes to editors
1. National Museums Scotland is one of the leading museum groups in the UK and Europe and it looks after collections of national and international importance. The organisation provides loans, partnerships, research and training in Scotland and internationally. Our individual museums are the National Museum of Scotland, the National Museum of Flight, the National Museum of Rural Life and the National War Museum. The National Museums Collection Centre in Edinburgh houses conservation and research facilities as well as collections not currently on display.
Twitter: @NtlMuseumsScot
Facebook: www.facebook.com/NationalMuseumsScotland
Instagram: @NationalMuseumsScotland
Bheireadh Oifis nam Meadhanan eadar-theangachadh Gàidhlig den bhrath-naidheachd seachad do bhuidhinn mheadhanan bharantaichte. Cuiribh fios do dh'Oifis nam Meadhanan airson bruidhinn air cinn-latha freagarrach.


People's Postcode Lottery
People's Postcode Lottery manages lotteries on behalf of 20 Postcode Trusts. People play with their chosen postcodes for a chance to win cash prizes. A minimum of 33% from each subscription goes directly to charities and good causes in Britain and internationally. Players have raised more than £800 million so far. For details of the charities and good causes which are promoting and benefitting from the lottery draws, please visit postcodelottery.co.uk/good-causes/draw-calendar
It costs £10 a month to play and winning postcodes are announced every day. The maximum amount a single ticket can win is 10% of the draw proceeds. For details, please visit postcodelottery.co.uk/prizes
New players can sign up to pay using direct debit by calling 0808 10 9 8 7 6 5. New players who sign up online at postcodelottery.co.uk can pay using direct debit, debit card or PayPal.
Postcode Lottery Limited is regulated by the Gambling Commission under licence numbers: 000-000829-N-102511 and 000-000829-R-102513. Registered office: 2nd Floor, 31 Chertsey Street, Guildford, Surrey, England, GU1 4HD · Follow us @PPLComms