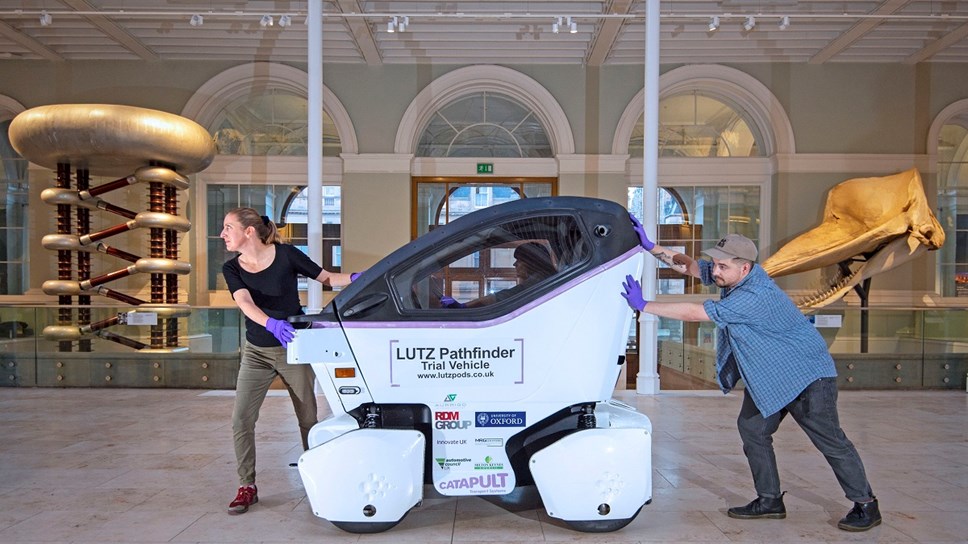 National Museums Scotland acquires one of the UK's first autonomous vehicles
National Museums Scotland has acquired a prototype LUTZ Pathfinder, one of three vehicles used for the first test of fully self-driving cars in public in the UK. Going on display in the National Museum of Scotland from today, it is the first autonomous vehicle to enter a UK museum collection.
The electric-powered, two-seater "pod", built and gifted by RDM Group, Coventry, was equipped with autonomous control systems developed by the Oxford Robotics Institute. It was part of a trial carried out in 2016 in pedestrianised areas of Milton Keynes.
The LUTZ Pathfinder project fed into the UK Autodrive programme, working towards the creation of a fleet of fully autonomous vehicles, able to operate without test drivers. Benefits range from environmental efficiency to improved safety for passengers and pedestrians.
Cutting-edge driverless technology already has real-word applications. Online grocery retailer Ocado has partnered with Oxbotica (a company formed out of the Oxford Robotics Institute) to build self-driving vehicles to serve their customers. The LUTZ Pathfinder has also paved the way for new technology, like the Starship Technologies delivery robots, which deliver goods to households in Milton Keynes and Northampton.
Dr Meredith Greiling, Senior Curator of Transport at National Museums Scotland said:
"This ground-breaking prototype represents the early stages of a technology which has the potential to transform the way we live and how our cities are designed. It aims to improve road safety by eliminating human error, reduce the number of cars on our roads and reduce congestion by enabling vehicles to drive closer together and freeing up space currently used for car parking. It is hoped that it will also help people who are unable to drive due to age or disability to be more mobile and independent."
The display of the LUTZ Pathfinder is the latest activity at the National Museum of Scotland to explore themes of sustainability. It follows the opening last month of two new displays – Scotland's Climate Challenge and Extinction Bell - examining the impact of climate change and biodiversity loss as well as the technological response in Scotland to the climate emergency.

Scotland's Climate Challenge explores Scottish innovations which seek to mitigate the impact of industry on our climate through the use of alternative sources of energy by showing a range of leading-edge equipment, much of it newly collected, alongside samples of natural material. It also profiles some of those working in associated industries, such as Dr Faisal Ghani, whose pioneering invention, the SolarisKit has won awards for its contribution to lowering carbon emissions and addressing fuel poverty in the developing world.

Extinction Bell is a work by Bristol-based artist Luke Jerram. A fire engine bell from National Museums Scotland's collection has been adapted to toll at random intervals 150-200 times per day: each ring of the bell marks the extinction of a species, representing the number of species being lost every 24 hours, according to a 2007 report from the UN. The 19th century brass bell, chosen by curators, was originally used on a horse-drawn fire engine from St Mary's Isle estate near Kirkcudbright.
A free online event taking place on 4 November, Art and Science – Communicating the Climate Emergency will see artists Luke Jerram and Philip Pinsky, along with National Museums Scotland curators, discuss the urgency of the climate and biodiversity crisis. The event will explore how the research and technology being used to tackle these issues can be shared with the wider public and consider how art can help communicate these critical messages and inspire change.
Taking place at the National Museum of Scotland from 1-14 November, And If Not Now, When? Is a free, immersive and reactive, sound and film installation by artists Philip Pinsky and Karen Lamond which invites visitors to experience a transformed urban reality to inspire hope and possibility. Confronted with a heightened version of a busy urban junction; heavy traffic, pollution and noise, they will walk through a sound and film installation, guided by a lighted path.

National Museums Scotland has been working with pupils at Castlebrae Community High School in Edinburgh to develop three short films, supported by the ScottishPower Foundation, which show how the Museum's collections can help us understand the science of climate change, the evidence for human impact and the things that can be done to address the situation. The films can be viewed at nms.ac.uk/climatefilms
Further information on exhibition and images from: Alice Wyllie, Press Office on 0131 247
4288 or email a.wyllie@nms.ac.uk
Scotland's Climate Challenge, Art and Science – Communicating the Climate Emergency and the Extinction Bell are supported by players of People's Postcode Lottery.
Notes to editors
1 - National Museums Scotland is one of the leading museum groups in the UK and Europe and it looks after collections of national and international importance. The organisation provides loans, partnerships, research and training in Scotland and internationally. Our individual museums are the National Museum of Scotland, the National Museum of Flight, the National Museum of Rural Life and the National War Museum. The National Museums Collection Centre in Edinburgh houses conservation and research facilities as well as collections not currently on display.
2 - Twitter: @NtlMuseumsScot
Facebook: www.facebook.com/NationalMuseumsScotland
Instagram: @NationalMuseumsScotland
3 - People's Postcode Lottery manages lotteries on behalf of 20 Postcode Trusts. People play with their chosen postcodes for a chance to win cash prizes. A minimum of 33% from each subscription goes directly to charities and good causes in Britain and internationally. Players have raised more than £750 million so far. For details of the charities and good causes which are promoting and benefitting from the lottery draws, please visit www.postcodelottery.co.uk/good-causes/draw-calendar
It costs £10 a month to play and winning postcodes are announced every day. The maximum amount a single ticket can win is 10% of the draw proceeds. For details, please visit postcodelottery.co.uk/prizes
New players can sign up to pay using direct debit by calling 0808 10 9 8 7 6 5. New players who sign up online at postcodelottery.co.ukcan pay using direct debit, debit card or PayPal.
Postcode Lottery Limited is regulated by the Gambling Commission under licence numbers: 000-000829-N-102511 and 000-000829-R-102513. Registered office: 2nd Floor, 31 Chertsey Street, Guildford, Surrey, England, GU1 4HD
Follow us @PPLComms
4 - Bheireadh Oifis nam Meadhanan eadar-theangachadh Gàidhlig den bhrath-naidheachd seachad do bhuidhinn mheadhanan bharantaichte. Cuiribh fios do dh'Oifis nam Meadhanan airson bruidhinn air cinn-latha freagarrach
Header text: L-R Meredith Greiling, Anna Starkey and Joesph Jackson guide the LUT3 Pathfinder through the Grand Gallery © Neil Hanna Photography