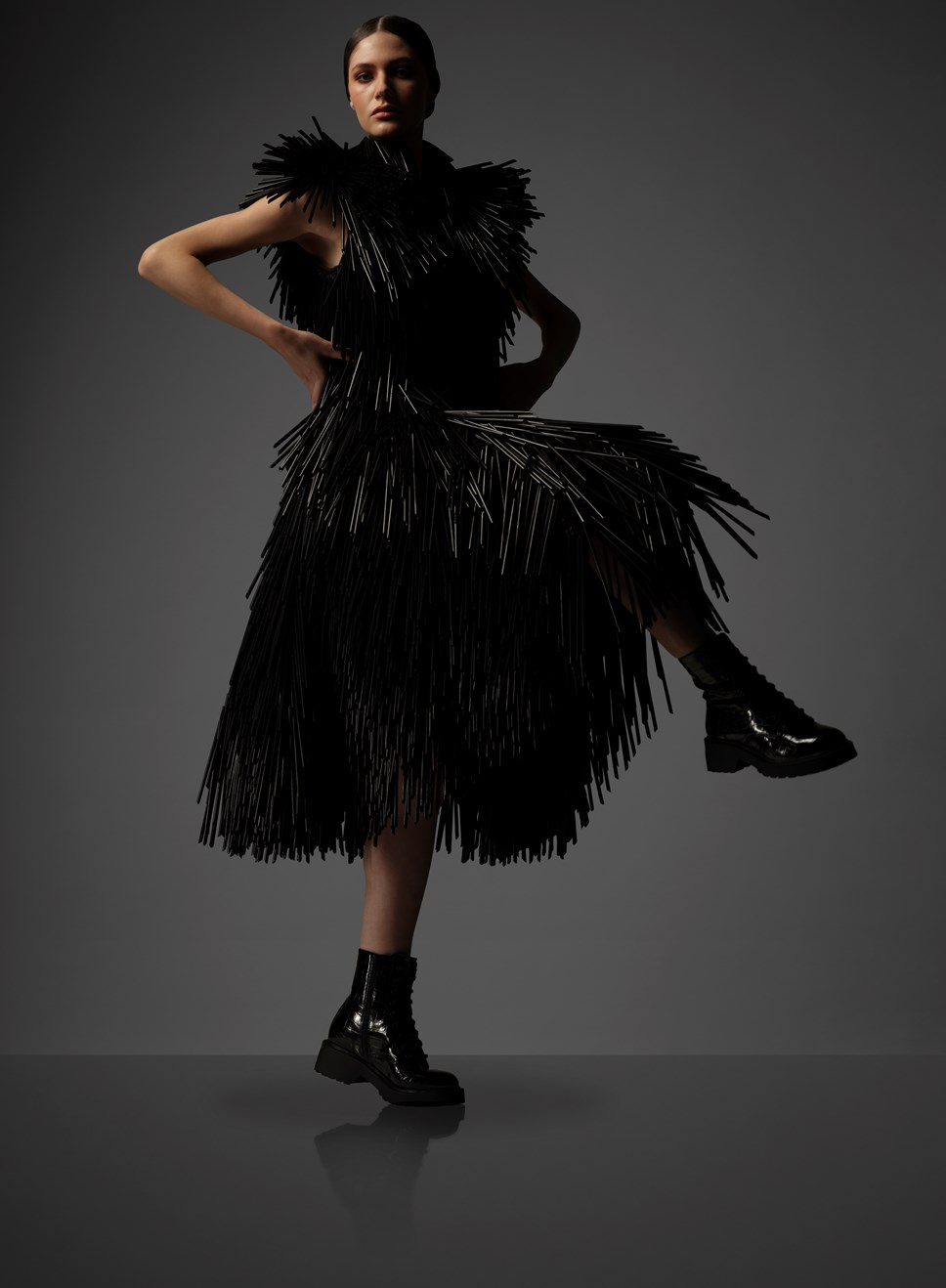 New images by David Eustace are revealed as tickets for Beyond the Little Black Dress go on sale
Tickets for the National Museum of Scotland's summer exhibition Beyond the Little Black Dress go on sale tomorrow, Friday 3 March, 2023.
Press images are available here.

The major fashion exhibition, which runs from 1 July to 29 October 2023, demonstrates how an iconic wardrobe staple has become a blank canvas for designers to convey political and cultural ideas.
When Coco Chanel introduced her simple short black dress in 1926 it was hailed by US Vogue as "the frock that all the world will wear". From Chanel's pioneering day dress through to innovative modern creations, the exhibition uses the lens of the 'LBD' to explore representations of gender, race, sexuality and subcultural styles.
Featuring classic fashion houses such as Dior, Balenciaga and Yves Saint Laurent, Beyond the Little Black Dress also includes garments from contemporary designers like Comme des Garçons, Maximilian, Molly Goddard and Gareth Pugh.
To mark tickets for Beyond the Little Black Dress going on sale, a pair of images by photographer David Eustace have been unveiled.
Georgina Ripley, Principal Curator of Modern and Contemporary Design at National Museums Scotland said:
"We are delighted to announce that tickets are now on sale for our biggest ever fashion exhibition, Beyond the Little Black Dress. These new images by David Eustace, one of Scotland's best known photographers, give visitors an exciting taste of what they will see in the exhibition. Featuring two looks by groundbreaking British designer Gareth Pugh, they demonstrate how contemporary designers are subverting expectations and putting their own mark on a wardrobe staple."
The photographs show Scottish model Zelda Smyth in two striking Gareth Pugh dresses, which will be featured in the exhibition. One is hand-embroidered with black plastic drinking straws and the other embellished with bin bags woven into extraordinary forms. The 'neo-goth' designer regularly challenges classical fashion norms and uses unexpected materials to disrupt the conventions of high fashion.
David Eustace said:
"Beyond the Little Black Dress explores how designers are really pushing the creative boundaries to challenge what we think we know about an iconic garment, and that's particularly evident in these two striking dresses by Gareth Pugh. Little black dresses made of bin bags or plastic drinking straws might not immediately evoke a sense of glamour, but their clever construction, the manner in which they move and the way the light plays on the materials transforms them into high fashion pieces worthy of the red carpet. They were a joy to photograph and I look forward to seeing them on display in this unique exhibition."
Sponsored by Baillie Gifford, Beyond the Little Black Dress spans a century of fashion, considering the role of the colour black in a global context. The issue of sustainability of the fashion industry is pulled into focus, looking at the future of production, including garments that utilise smart technologies. Black British design is celebrated through looks from Maximilian, A-COLD-WALL* and Joe Casely-Hayford among others.
Beyond the Little Black Dress will be accompanied by a programme of events. Tickets will be available to book at www.nms.ac.uk/beyondLBD.
The accompanying book Little Black Dress: A Radical Fashion edited by Georgina Ripley, £30.00, is published by NMS Enterprises Ltd – Publishing.

National Museums Scotland Members free.
Book in advance to save, general admission: Adult £12-14.50, Over 60s £10-12.50, Student, Unemployed, Disabled, Young Scot £7.50-10, Under 16s Free, Carers Free
Discounts available for groups of 10 or more


Beyond the Little Black Dress is part of Edinburgh Art Festival, taking place between 11–27 August 2023.
edinburghartfestival.com/eaf-2023/
@edartfest
#EdArtFest
Notes to editors
Notes to editors:
National Museums Scotland is one of the leading museum groups in the UK and Europe and it looks after collections of national and international importance. The organisation provides loans, partnerships, research and training in Scotland and internationally. Our individual museums are the National Museum of Scotland, the National Museum of Flight, the National Museum of Rural Life and the National War Museum. The National Museums Collection Centre in Edinburgh houses conservation and research facilities as well as collections not currently on display.

Twitter: @NtlMuseumsScot
Facebook: www.facebook.com/NationalMuseumsScotland
Instagram: @NationalMuseumsScotland
Exhibition hashtag: #BeyondLBD


National Museums Scotland's internationally significant fashion and textiles collection comprises around 50,000 objects and is one of the largest in the UK. The collection includes textiles dating back to the 14th century and clothing and accessories dating from the 16th century to the present day. Beyond the Little Black Dress follows the acclaimed exhibition Body Beautiful: Diversity on the Catwalk.


Bheireadh Oifis nam Meadhanan eadar-theangachadh Gàidhlig den bhrath-naidheachd seachad do bhuidhinn mheadhanan bharantaichte. Cuiribh fios do dh'Oifis nam Meadhanan airson bruidhinn air cinn-latha freagarrach.