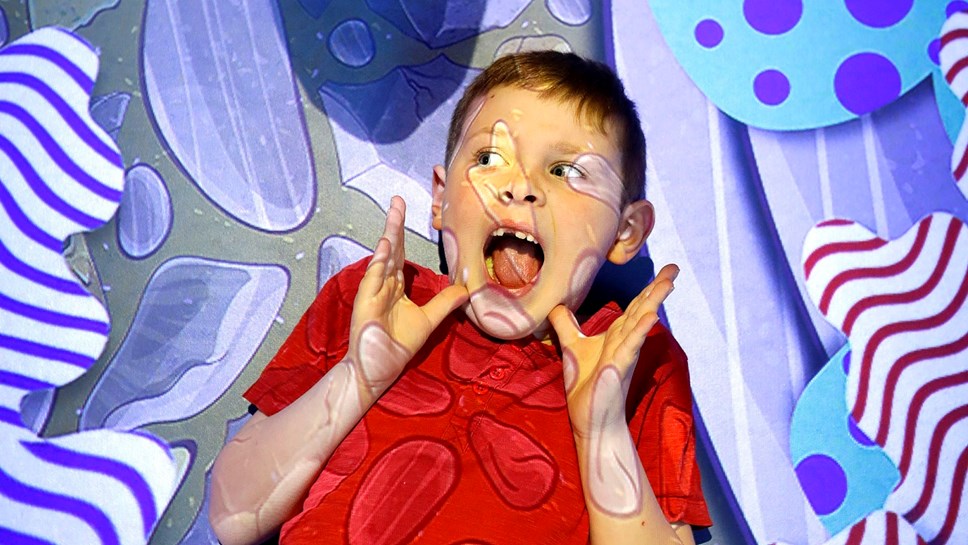 Transformed Adventure Planet gallery reopens with renewed environmental focus
Reopens Friday 8 April
National Museum of Scotland, Chambers Street, Edinburgh
Free
The popular Adventure Planet gallery at the National Museum of Scotland is set to reopen on Friday 8 April following a redevelopment to create a revitalised, immersive space where the attraction's younger visitors and their families can explore and learn about the natural world.
Fun and thought-provoking activities and interactive games have been incorporated to spark ideas about caring for wildlife and the steps everyone can take to preserve the natural world in their everyday lives. Old favourites have been updated and additional specimens from the Museum's world-renowned natural sciences collection included as Adventure Planet puts a renewed focus on the environment and biodiversity.
The free-entry gallery has three themes – Marine, Woodland and Extinction, and an eye-catching design featuring graphics created by artist and children's illustrator, Mike Orodan.
The new Marine space enables children to imagine diving under the waves in an orange submarine to learn about Scotland's diverse sea life. Real specimens from the Museum's collections are displayed in an immersive environment that teaches visitors about the fragility of marine ecosystems. A new interactive beach clean-up game shows what people should clear up from the beach and what they should leave, to explain how everyone can help to protect the coastline.
Children can burrow into the roots of the life-sized model oak tree that forms the centrepiece of the Woodland section of the gallery, where they can now encounter mammals and insects and learn about the building blocks of ecosystems. Older visitors can spot some of the wildlife species which inhabit an oak tree and a new Get Hedgehog Home board game reveals the hazards this species faces in an urban environment. Specimens from the Museum's invertebrates collections feature in a new Life on a Log display case and families will also discover some of the small steps they can take to protect Scotland's biodiversity and be encouraged to explore nature in their local area.
Sally, the Museum's popular stegosaurus skeleton cast, will welcome visitors back to the Extinction section of the gallery. Here they can discover how dinosaurs roamed Skye 170 million years ago and can learn about extinct animals. Children can take on the role of palaeontologists in the gallery's popular Dino Dig, which returns with a digital twist to make revealing hidden fossils even more exciting. They can also learn how a knowledge of extinct animals can help scientists understand today's natural world.
Dressing-up costumes and tactile models add another element of fun to the Adventure Planet experience.
The transformation of Adventure Planet was made possible thanks to a fundraising campaign that included donations from over 200 individuals.
Emma Webb, Learning Manager at National Museums Scotland said;

"Adventure Planet has been a huge family favourite for many years but with input from teachers, parents and scientists, and thanks to the generosity of over 200 donors to the project, we've been able to modernise this important gallery to create a revitalised space that will help families to understand our natural world and the steps they can take to protect it. We hope that engaging with the experiences inside Adventure Planet will nurture a deeper love and respect for nature and that it will keep inspiring families long after their visit is over."
Notes to editors
Further information on Adventure Planet and images from: Karen Finlay, Artisan PR on 07803 945043 or karen@artisanpr.co.uk
Further information on the National Museum of Scotland from: Bruce Blacklaw or Alice Wyllie, Press Office on 0131 247 4165/0131 247 4288 or email b.blacklaw@nms.ac.uk and a.wyllie@nms.ac.uk
Notes to editors
1. National Museums Scotland is one of the leading museum groups in the UK and Europe and it looks after collections of national and international importance. The organisation provides loans, partnerships, research and training in Scotland and internationally. Our individual museums are the National Museum of Scotland, the National Museum of Flight, the National Museum of Rural Life and the National War Museum. The National Museums Collection Centre in Edinburgh houses conservation and research facilities as well as collections not currently on display.
Twitter: @NtlMuseumsScot
Facebook: www.facebook.com/NationalMuseumsScotland
Instagram: @NationalMuseumsScotland
2. Bheireadh Oifis nam Meadhanan eadar-theangachadh Gàidhlig den bhrath-naidheachd seachad do bhuidhinn mheadhanan bharantaichte. Cuiribh fios do dh'Oifis nam Meadhanan airson bruidhinn air cinn-latha freagarrach.