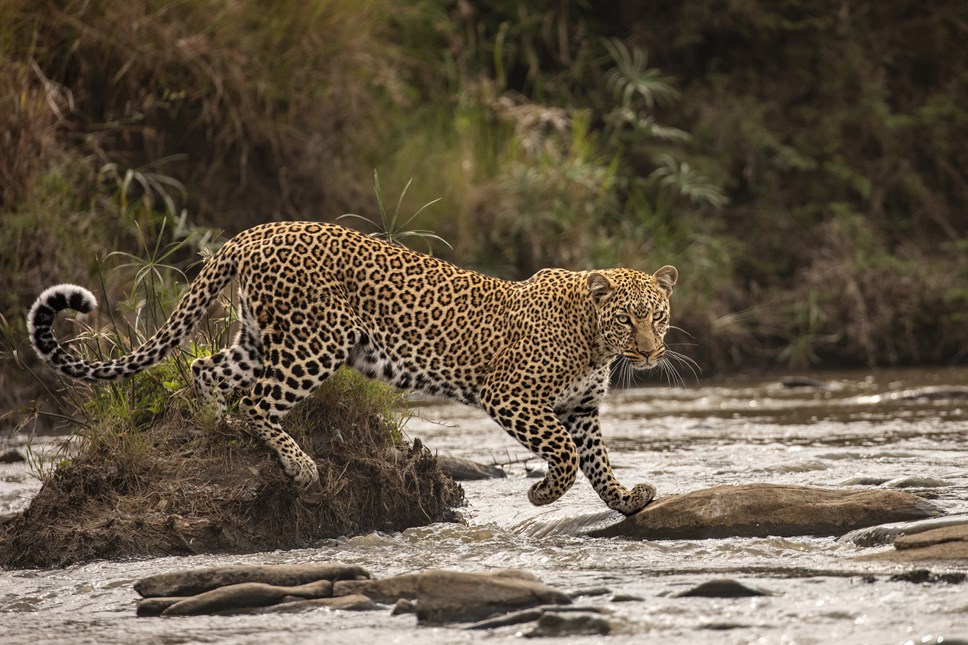 Wildlife Photographer of the Year exhibition coming to Edinburgh
Wildlife Photographer of the Year, National Museum of Scotland (20 January to 6 May 2024)
The world-renowned exhibition, on loan from the Natural History Museum in London, will open at the National Museum of Scotland on 20 January 2024, featuring exceptional images which capture fascinating animal behaviour, spectacular species and the breathtaking diversity of the natural world. Using photography's unique emotive power to engage and inspire audiences, the images shine a light on stories and species around the world and encourage a future of advocating for the planet.
Click here to download further preview images
Wildlife Photographer of the Year is the most prestigious photography event of its kind, providing a global platform that showcases some of the best photography talent from around the world for nearly 60 years. Launching in 1965, today the competition receives entries from 95 countries all over the world, highlighting its enduring appeal. This year's award-winning images will embark on an international tour that will allow them to be seen by well over a million people.  
This year's competition attracted an astounding 49,957 entries from photographers of all ages and experience levels from 95 countries. During an intense week at the Natural History Museum in London, entries were judged anonymously on their creativity, originality, and technical excellence by an international panel of industry experts. 
The winning images, including the prestigious Grand Title Award winners, will be announced on 10 October 2023 during a glittering awards show hosted by wildlife presenters Chris Packham and Megan McCubbin.
Dr Nick Fraser, Keeper of Natural Sciences at National Museums Scotland, said:
"These images taken together tell a powerful story, balancing the wonder and beauty of the natural world with its fragility and vulnerability to climate change and biodiversity loss. It is perhaps less well understood how the work of in-house natural sciences teams and external researchers on collections such as ours at National Museums Scotland and those at NHM contributes hugely to global understanding of human impact on the environment, and so we look forward to welcoming visitors to the exhibition and the Museum early next year."
Dr Doug Gurr, Director of the Natural History Museum says, 'We are facing urgent biodiversity and climate crises, and photography is a powerful catalyst for change. The Wildlife Photographer of the Year exhibition reveals some of nature's most wondrous sights whilst offering hope and achievable actions visitors can take to help protect the natural world.'
Chair of the judging panel, Kathy Moran says, 'What most impressed the jury was the range of subjects, from absolute beauty, rarely seen behaviors and species to images that are stark reminders of what we are doing to the natural world. We felt a powerful tension between wonder and woe that we believe came together to create a thought-provoking collection of photographs.' 
The exhibition at the National Museum of Scotland is supported by players of People's Postcode Lottery, and will be supported by a range of public events and activities.
Laura Chow, Head of Charities at People's Postcode Lottery said:
"The Wildlife Photographer of the Year exhibition is truly stunning and inspiring, helping us discover untold stories of species from around the world. Our players have raised more than £3.3 million for National Museums Scotland and I'm delighted their support makes exhibitions like this accessible to everyone, allowing more people to learn about our natural world".
Exhibition information:
Dates and times: 20 January to 6 May 2024, opening 10am to 5pm
To book tickets: www.nms.ac.uk/wpy
Ticket prices 
 

Weekdays 

Weekends 

Members 

Free 

Free 

Adult 

£10* – £11   

£11* – £12   

Over 60s 

£8* – £9 

£9* – £10 

Student, Unemployed, Disabled, Young Scot** 

£6* – £7 

£7* – £8 

Under 16s† 

Free 

Free 

*Book in advance to save. Advance ticket prices are available up to 23:59:59 the day before. 

**Valid ID required. Carers of disabled people free. 

†Under 16s must be accompanied by an adult. 

Discounts available for groups of 10 or more. 

For school group bookings please email schools@nms.ac.uk  
Facebook: www.facebook.com/wildlifephotographeroftheyear
Twitter: @NHM_WPY
Instagram: @nhm_wpy
Hashtag: #WPY59
Notes to editors
The Natural History Museum's acclaimed Wildlife Photographer of the Year competition and exhibition ignites curiosity about the natural world by showcasing Earth's extraordinary diversity and highlighting the fragility of wildlife on our planet. Using the unique emotive power of photography, the competition inspires people to think differently about their relationship with nature and become advocates for the planet: www.nhm.ac.uk/visit/exhibitions/wildlife-photographer-of-the-year.html
Wildlife Photographer of the Year was founded in 1965 by BBC Wildlife Magazine, then called Animals. The Natural History Museum joined forces in 1984 to create the competition as it is known today. The competition is now solely run and owned by the Natural History Museum.
Open to photographers of all ages and abilities, the competition opens for entries every October. The 2024 competition opens on 16 October 2023.
The Natural History Museum is a world-leading science centre and one of the most visited attractions in the UK. A global source of curiosity, inspiration and joy. Our vision is to build a future in which both people and the planet thrive. We aim to be a catalyst for change, engaging advocates for the planet in everything that we do. Our 350 scientists are finding solutions to the planetary emergency in all aspects of life. Visit, join and support the Natural History Museum today. Protecting the planet. It's in our nature. 
National Museums Scotland is one of the leading museum groups in the UK and Europe and it looks after collections of national and international importance. The organisation provides loans, partnerships, research and training in Scotland and internationally. Our individual museums are the National Museum of Scotland, the National Museum of Flight, the National Museum of Rural Life and the National War Museum. The National Museums Collection Centre in Edinburgh houses conservation and research facilities as well as collections not currently on display.
Twitter: @NtlMuseumsScot
Facebook: www.facebook.com/NationalMuseumsScotland
Instagram: @NationalMuseumsScotland
Bheireadh Oifis nam Meadhanan eadar-theangachadh Gàidhlig den bhrath-naidheachd seachad do bhuidhinn mheadhanan bharantaichte. Cuiribh fios do dh'Oifis nam Meadhanan airson bruidhinn air cinn-latha freagarrach.