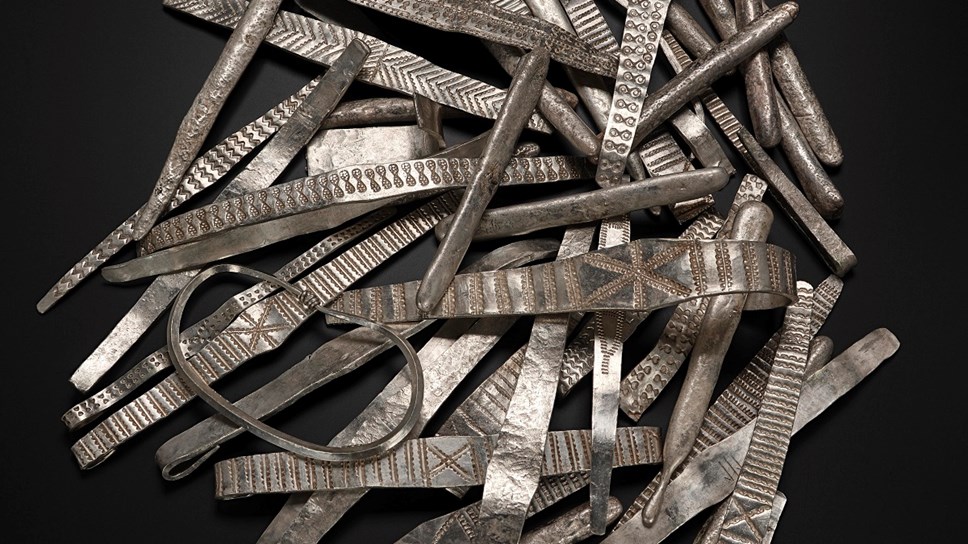 Galloway Hoard: Viking-age Treasure exhibition at Kirkcudbright Galleries breaks records
The display of one of the most important UK archaeological finds of the century, The Galloway Hoard, has become the most popular exhibition to be held in Kirkcudbright Galleries since the venue opened in 2018.
A selection of press images is available here
Galloway Hoard: Viking-age Treasure, which is on at Kirkcudbright Galleries until 10 July, has now welcomed over 30,000 visitors. It is touring thanks to support from the Scottish Government and will move on to Aberdeen Art Gallery from 30 July.
The Galloway Hoard is the richest collection of rare and unique Viking-age objects ever found in Britain or Ireland. Buried around AD900, the Hoard brings together a stunning variety of objects and materials in one discovery.
The exhibition offers the chance to see details hidden for over a thousand years, revealed by expert conservation, painstaking cleaning and cutting-edge research. It was updated in December with a digital display detailing new research into a rock crystal jar, part of the Hoard which remained in Edinburgh for study and conservation. Removal of the fragile textile wrappings revealed an inscription bearing the name 'Hyguald', thought to be a Northumbrian bishop. The revelation led to national and international news coverage for the Hoard and for the exhibition in Kirkcudbright.
Dr Chris Breward, Director of National Museums Scotland said:

"We are delighted at the success of Galloway Hoard: Viking-age Treasure, both in the number of visitors it has attracted and the hugely positive public response to the exhibition. It has been a pleasure to work with our colleagues at Kirkcudbright Galleries and we look forward to continuing our collaboration around the Galloway Hoard for many years to come."
Culture Minister Neil Gray said:

"We're pleased to have assisted in funding the tour of this incredible treasure trove of items from the Viking Age. Exhibitions like this really bring history to life and I'm delighted that so many people have seen the Galloway Hoard while it's been on display at the Kirkcudbright Galleries. I would urge anyone who hasn't seen it yet to do so before it moves on to the Aberdeen Art Gallery."
Cllr Archie Dryburgh, Chair of Dumfries and Galloway Council's Communities Committee said:

"This landmark figure of 30,000 visitors is a great yardstick for why our Council worked so hard to host this wonderful exhibition. Despite the exhibition 'coming home' in the middle of a pandemic, the visitor numbers that the Hoard exhibition has attracted is a real positive for our fantastic Kirkcudbright Galleries facility, as well as the region as a whole."
Cllr John Campbell, Vice Chair of the Council's Communities Committee added:

"This exhibition has really demonstrated the inclusivity that a significant exhibition like this attracts. We've had local school trips to international bus tours and everything in between visiting the Galloway Hoard exhibition. I'd like to remind people who have yet to see it, or indeed who would like to see it again, that it's in situ on the Galleries for a few more weeks yet."
The Galloway Hoard was discovered in 2014.  It was acquired by National Museums Scotland in 2017 with the support of the National Heritage Memorial Fund, Art Fund and the Scottish Government as well as a major public fundraising campaign. Since then, it has been undergoing extensive conservation and research at the National Museums Collection Centre in Edinburgh.
Further research continues into the Galloway Hoard. The Arts and Humanities Research Council (AHRC) awarded support for a £1m, three-year research project, Unwrapping the Galloway Hoard, led by National Museums Scotland in partnership with the University of Glasgow which commenced in June 2021.
The Galloway Hoard will eventually go on long-term display at the National Museum of Scotland in Edinburgh with a significant and representative portion of it also displayed long-term at Kirkcudbright Galleries.
The exhibition is accompanied by a book detailing the most up to date research findings and is supported by a range of digital and learning activities and resources. Dr Adrián Maldonado, Galloway Hoard Researcher at National Museums Scotland, will be giving an online talk on 21 June in support of the exhibition. Recordings of four previous talks can be viewed on the Kirkcudbright Galleries website: The Galloway Hoard - Kirkcudbright Galleries | Dumfries and Galloway |
#GallowayHoard
Notes to editors
1. About National Museums Scotland
National Museums Scotland is one of the leading museum groups in the UK and Europe and it looks after collections of national and international importance. The organisation provides loans, partnerships, research and training in Scotland and internationally. Our individual museums are the National Museum of Scotland, the National Museum of Flight, the National Museum of Rural Life and the National War Museum. The National Museums Collection Centre in Edinburgh houses conservation and research facilities as well as collections not currently on display.
2. Bheireadh Oifis nam Meadhanan eadar-theangachadh Gàidhlig den bhrath-naidheachd seachad do bhuidhinn mheadhanan bharantaichte. Cuiribh fios do dh'Oifis nam Meadhanan airson bruidhinn air cinn-latha freagarrach.
3. About the National Heritage Memorial Fund
The National Heritage Memorial Fund (NHMF) was set up in 1980 to save the most outstanding parts of our national heritage, in memory of those who have given their lives for the UK www.nhmf.org.uk @NationalHeritageMemorialFund
#NHMF40