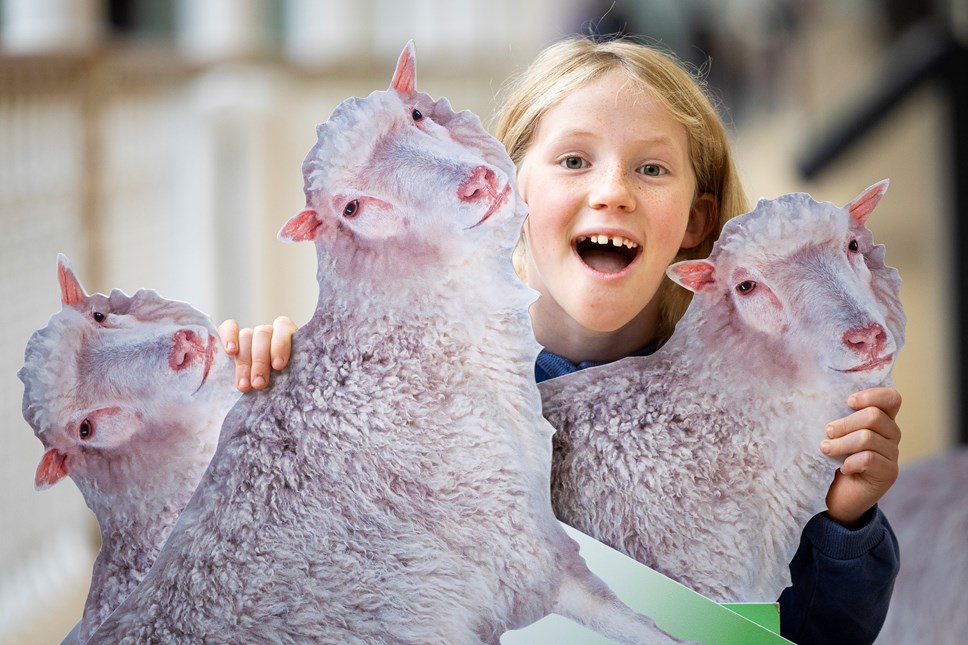 Maths Week Scotland kicks off tomorrow
This week will see maths-related activities taking place across the country in the annual Maths Week Scotland programme. The theme of this year's programme, which is coordinated by National Museums Scotland and funded by the Scottish Government, is Maths in Motion.
Maths Week Scotland: 25 September to 1 October 2023
#mathsweekscot
@mathsweekscot
Maths Week Scotland combines in-person events from Orkney to the Scottish Borders - in a mix of schools programming and public activities in museums, libraries and galleries - with a range of online events, resources and workshops.
The Maths in Motion theme has a huge variety of applications, as the programme shows, with diverse topics ranging from the maths of money to ceilidh dancing, and from nautical navigation to maths in football.
The Scottish Mathematical Council have created a series of football-themed films for Maths Week Scotland, in conjunction with the Scottish Football Association and featuring the Hearts Women's team, the Scottish Football Museum and Rugby Park, the home of Kilmarnock Football Club. The films cover topics as diverse as predicting the outcome of penalty kicks, travel logistics, how to calculate how many people can get through the turnstiles in time for kick-off and the mathematics of the curve on a free kick.
The National Museum of Scotland will host a pop-up exhibition from the Open University entitled Maths in Motion: Pendulums and Patterns, maths-themed Magic Carpet sessions for pre-schoolers, object handling in the Grand Gallery and a maths-themed trail inspired by Dolly the Sheep.
Education Secretary Jenny Gilruth said:
"The Scottish Government is proud to support Maths Week Scotland's delivery of yet another amazing range of activities to promote the important merits of maths in everyday life. We are determined to do everything we can to inspire the next generation of people to engage with maths and the events and workshops on offer will play an important role in doing exactly that."
Maths Week Scotland coordinator Ailsa Brien said:
"We're delighted to launch Maths Week Scotland in its seventh consecutive year. Maths in Motion is a theme which invites a wide range of interpretations and so we're thrilled to see such a creative and diverse programme of activities and events, which I'm sure will inspire and engage a wide range of audiences."
Maths Week Scotland is supporting a host of classroom activities for schools across the country, encouraging innovation and participation. Activity packs are available to download from the Maths Week Scotland website, with ideas of how to celebrate and enjoy the week for everyone from early years to secondary school pupils. Meanwhile, the daily Maths Week Scotland challenges will return, with accompanying BBC Bitesize learning videos setting out how to tackle them.
Support has also been provided to Scottish museums and galleries to integrate more maths into their programming during the week-long event. Maths Week Scotland and National Museums Scotland will support maths activities taking place in: The Museum on the Mound, Auchindrain Township Museum, The Scottish Maritime Museum, The Burrell Collection, Sumerlee Museum of Scottish Industrial Life, Surgeons' Hall Museum, The Scottish Fisheries Museum, National Galleries of Scotland and The Great Tapestry of Scotland.
Over 20 libraries are also taking part in Maths Week Scotland, with activities including Maths-themed Bookbug sessions, crafts and LEGO.
Maths Week Scotland has a supporting year-round programme for schools, families, adults and community groups. This is part of an ongoing drive to transform Scotland into a maths-positive nation through raising the profile of maths and encouraging enthusiasm for maths across the country.
National Museums Scotland is working with a wide range of organisations and collaborators to support and deliver Maths Week Scotland activity across Scotland. For a full list of contributors and to view the whole programme, visit: www.mathsweek.scot
Notes to editors
National Museums Scotland is one of the leading museum groups in the UK and Europe and it looks after collections of national and international importance. The organisation provides loans, partnerships, research and training in Scotland and internationally. Our individual museums are the National Museum of Scotland, the National Museum of Flight, the National Museum of Rural Life and the National War Museum. The National Museums Collection Centre in Edinburgh houses conservation and research facilities as well as collections not currently on display.
Twitter: @NtlMuseumsScot
Facebook: www.facebook.com/NationalMuseumsScotland
Instagram: @NationalMuseumsScotland
Bheireadh Oifis nam Meadhanan eadar-theangachadh Gàidhlig den bhrath-naidheachd seachad do bhuidhinn mheadhanan bharantaichte. Cuiribh fios do dh'Oifis nam Meadhanan airson bruidhinn air cinn-latha freagarrach.