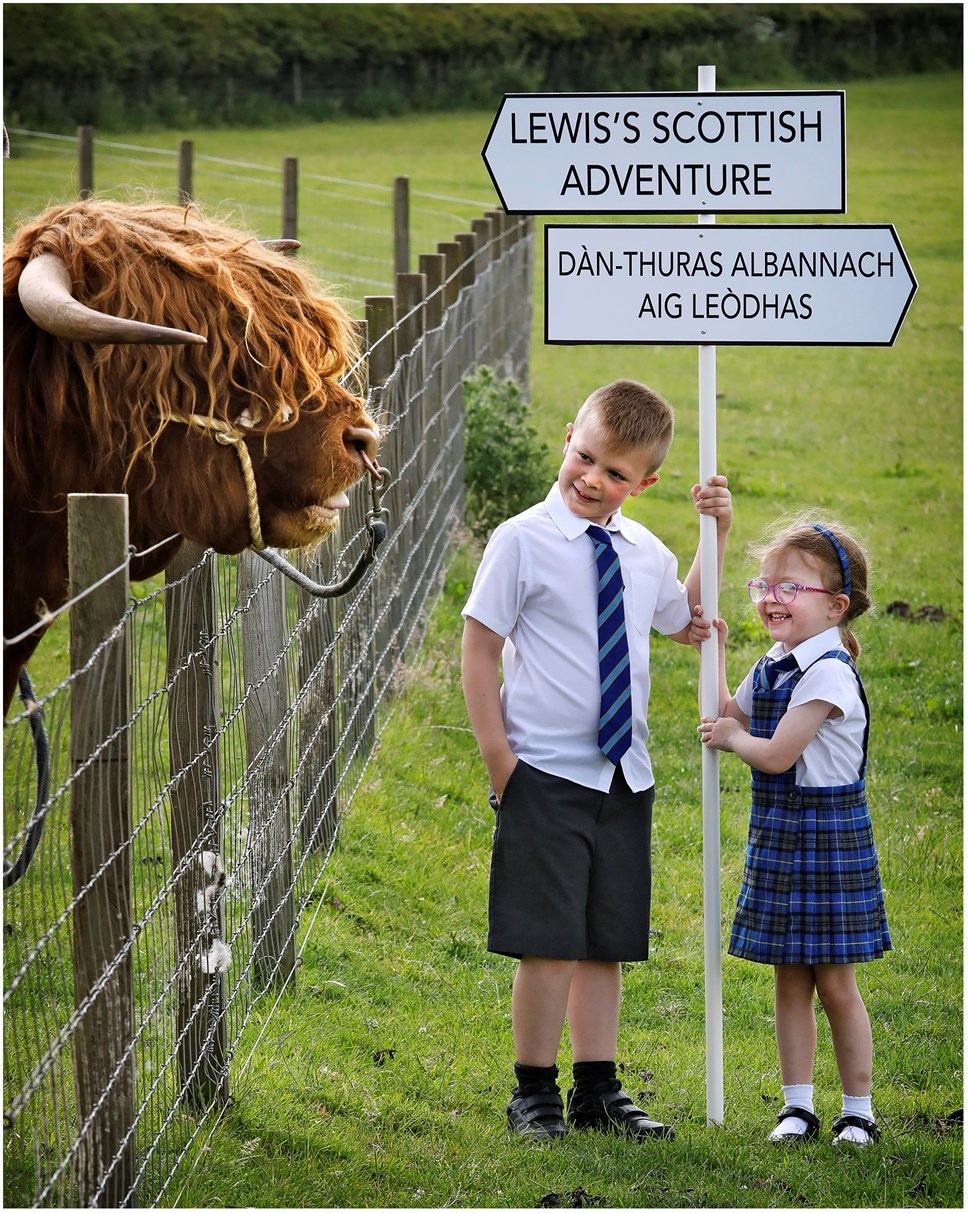 National Museum of Rural Life launches Gaelic-English family trail
The National Museum of Rural Life, East Kilbride has introduced a new bilingual Gaelic-English family trail named after the attraction's recently-arrived Highland Bull, Lewis.
Press images available here.
Supported by players of People's Postcode Lottery, Lewis's Scottish Adventure (Dàn-thuras Albannach aig Leòdhas) leads families round the Museum galleries introducing them to objects and traditions from Scotland's rural past and teaching English-speaking visitors some simple Gaelic words. Phonetic guides are provided to help with pronunciation. Once they have completed the trail, families can visit Lewis at the Museum's historic working farm.
The bilingual trail is part of efforts by National Museum Scotland to contribute to the sustainability of the Gaelic language, helping to raise its status and profile.
Vicky McLean, General Manager, National Museum of Rural Life, said:
"The arrival of Lewis, our Highland Bull has given us the ideal opportunity to introduce a new fun-filled, family adventure at the Museum. Thanks to players of People's Postcode Lottery, we now have another inclusive and engaging way to help visitors learn about Scotland's rural past and are excited that we'll be able to teach non-Gaelic speakers a few words that we hope will encourage them to develop a love for the language."
This Summer, the Museum is also bringing back its popular Nature Track Packs for families, which were developed with support from players of People's Postcode Lottery. Available to borrow from the Museum ticket desk, they encourage children to use their senses to explore the countryside on a walk to the farm. Once there, as well as meeting Lewis the Highland Bull, they can see more cattle, chickens, pigs and sheep as well as Anna and Gina, the Museum's two Clydesdale horses. Each day at 3.15pm, they can also watch the milking of the Ayrshire dairy herd.
Laura Chow, Head of Charities at People's Postcode Lottery, said;
"I'm thrilled that support from our players means a whole host of generations will be able to explore the Scottish countryside and get a taste of Gaelic language this summer. Over £3 million has been raised by players so far to support National Museums Scotland and help families adventure aplenty on trails like Lewis's Scottish Adventure."
The National Museum of Rural Life is open seven days a week from 10am until 5pm. Tickets are valid for unlimited visits for 12 months from the date of purchase and can be booked online at nms.ac.uk/rural-life
Annual Pass – pay once, visit all year
Annual Pass prices
Adult (16+) £10, Concession* £9, Child (5-15) £7, (under 5's free**).
15% family discount when up to three Child (5-15) tickets alongside up to two Adult or Concession tickets (max 5 tickets total) purchased***
National Museums Scotland members free.
Discounts available for groups of 10 or more.
School visits free; some workshop charges apply.
* Concessions: Over 60s, Student, Unemployed, Disabled, Young Scot. Valid ID required
**Additional charge for some events
***Cannot be used with member tickets or any other discount or offer.
Further information and images from: Karen Finlay, Artisan PR on 07803 945043 or karen@artisanpr.co.uk
Notes to editors
National Museums Scotland is one of the leading museum groups in the UK and Europe and it looks after collections of national and international importance. The organisation provides loans, partnerships, research and training in Scotland and internationally. Our individual museums are the National Museum of Scotland, the National Museum of Flight, the National Museum of Rural Life and the National War Museum. The National Museums Collection Centre in Edinburgh houses conservation and research facilities as well as collections not currently on display.
Twitter: @NtlMuseumsScot
Facebook: www.facebook.com/NationalMuseumsScotland
Instagram: @NationalMuseumsScotland
Bheireadh Oifis nam Meadhanan eadar-theangachadh Gàidhlig den bhrath-naidheachd seachad do bhuidhinn mheadhanan bharantaichte. Cuiribh fios do dh'Oifis nam Meadhanan airson bruidhinn air cinn-latha freagarrach.