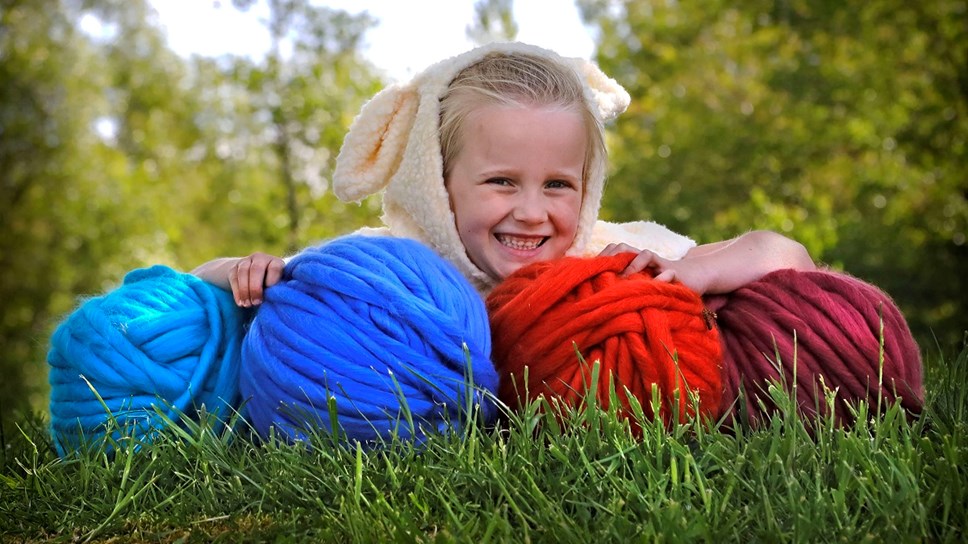 National Museum of Rural Life to showcase the wonders of wool
The wonders of wool will take centre stage at the National Museum of Rural Life on Saturday 28 and Sunday 29 May when the East Kilbride attraction hosts a special Woolly Weekend event.
Supported by Players of People's Postcode Lottery, the event will feature a variety of wool-themed activities including sheep life-drawing classes and the chance to see sheep being sheared. Traditional skills such as spinning will be showcased in a series of demonstrations and visitors can get up close to alpacas, Zwartble sheep and Dutch Spotted sheep in the Museum courtyard.
Craft activities include the chance to make a sheep mask or a pom-pom and families can also enjoy a petting zoo featuring a rabbit, Guinea pig, chicken, mouse and some creepy crawlies.
The National Museum of Rural Life's historic working farm has recently seen the addition of around 220 new lambs to its flock of Scottish Blackface and Scotch Mule sheep and visitors can take a short walk up to the farm to see how the new arrivals have grown in recent weeks. The farm is also home to Ayrshire, Aberdeen Angus and Highland cattle, hens, Tamworth pigs and two magnificent Clydesdale horses. The Georgian farmhouse and gardens can be explored and families can seek out the beautiful sheep sculpture which forms part of the Museum's Willow Sculpture Trail.
Scotland's sheep farming heritage also can be explored in the National Museum of Rural Life's modern Museum building where impressive galleries are filled with objects that tell the fascinating story of Scotland's rural past.
The support of players of People's Postcode Lottery means that Woolly Weekend is free with Museum admission and the Museum's Annual Pass.
Shirley Maciver, General Manager, National Museum of Rural Life, said:
"Our Woolly Weekend will allow visitors to see where this precious raw material comes from and will introduce them to some of the skills that have been used for centuries, and which are still used today, to produce amazing woolly creations. We're extremely grateful to players of People's Postcode Lottery for helping us to showcase this important element of Scottish rural life."
Laura Chow, head of charities at People's Postcode Lottery said; "This Woolly Weekend is a brilliant way for Museum visitors to learn about Scotland's wool-producing heritage and the life-cycle of wool. We're delighted that players of People's Postcode Lottery can support this programme of fun and engaging wool-themed family activities."
The National Museum of Rural Life is open seven days a week from 10am until 5pm and tickets are valid for unlimited visits for 12 months from the date of purchase.
Admission: Adult (16+) Annual Pass £9, Concession Annual Pass £8, Child (5-15) Annual Pass £6, (under 5's free).
Family Annual Pass (2 adults and 2 children) £25
National Museums Scotland members free.
Tickets can be booked online at nms.ac.uk/rural-life
Notes to editors
Further information and images from: Karen Finlay, Artisan PR on 07803 945043 or karen@artisanpr.co.uk
Notes to editors
1. National Museums Scotland is one of the leading museum groups in the UK and Europe and it looks after collections of national and international importance. The organisation provides loans, partnerships, research and training in Scotland and internationally. Our individual museums are the National Museum of Scotland, the National Museum of Flight, the National Museum of Rural Life and the National War Museum. The National Museums Collection Centre in Edinburgh houses conservation and research facilities as well as collections not currently on display.
Twitter: @NtlMuseumsScot
Facebook: www.facebook.com/NationalMuseumsScotland
Instagram: @NationalMuseumsScotland
Bheireadh Oifis nam Meadhanan eadar-theangachadh Gàidhlig den bhrath-naidheachd seachad do bhuidhinn mheadhanan bharantaichte. Cuiribh fios do dh'Oifis nam Meadhanan airson bruidhinn air cinn-latha freagarrach.


People's Postcode Lottery
People's Postcode Lottery manages lotteries on behalf of 20 Postcode Trusts. People play with their chosen postcodes for a chance to win cash prizes. A minimum of 33% from each subscription goes directly to charities and good causes in Britain and internationally. Players have raised more than £800 million so far. For details of the charities and good causes which are promoting and benefitting from the lottery draws, please visit postcodelottery.co.uk/good-causes/draw-calendar
It costs £10 a month to play and winning postcodes are announced every day. The maximum amount a single ticket can win is 10% of the draw proceeds. For details, please visit postcodelottery.co.uk/prizes
New players can sign up to pay using direct debit by calling 0808 10 9 8 7 6 5. New players who sign up online at postcodelottery.co.uk can pay using direct debit, debit card or PayPal.
Postcode Lottery Limited is regulated by the Gambling Commission under licence numbers: 000-000829-N-102511 and 000-000829-R-102513. Registered office: 2nd Floor, 31 Chertsey Street, Guildford, Surrey, England, GU1 4HD · Follow us @PPLComms