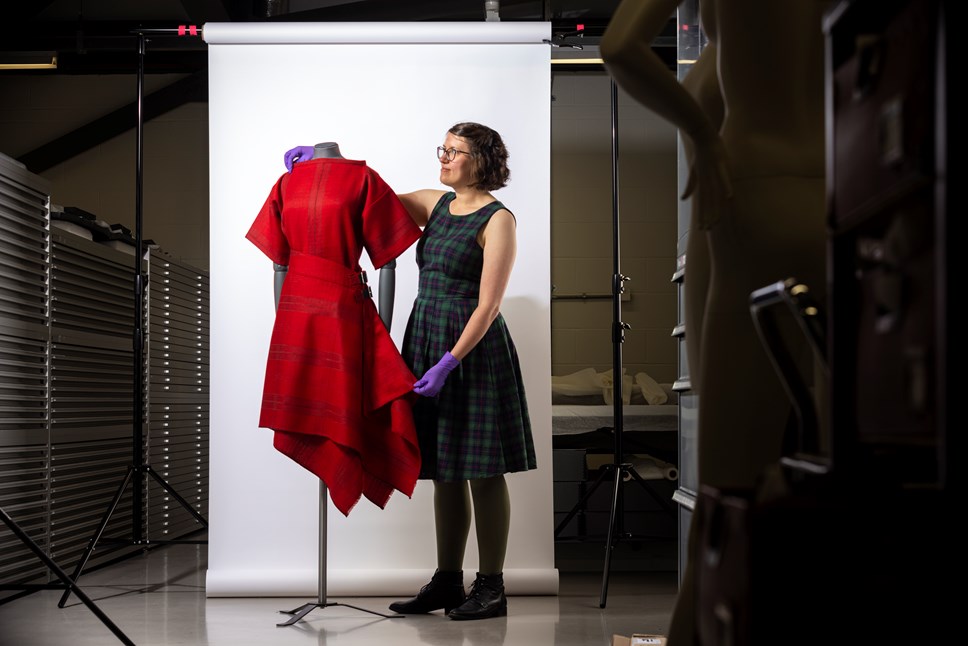 National Museums Scotland acquires contemporary Highland dress
National Museums Scotland has revealed a new collection of contemporary Highland dress, documenting a vibrant industry in Scotland today. Eight outfits have been added to National Museums Scotland's world class holdings of tartan and Highland dress, enabling it to tell the story of Scotland's iconic costume in the 21st century.
A selection of press images are available here.
These important acquisitions mark the culmination of a five-year project supported by the William Grant Foundation, which has fostered ground-breaking research into the Museum's unparalleled collection of historic tartans and Highland dress.
The latest stage of the project offers a snapshot of the variety of approaches to making and wearing Highland dress in the 21st century. From innovative new makers like Prickly Thistle and Acme Atelier, to long established brands including Kinloch Anderson and Chisholms Highland Dress, these eight outfits celebrate some of the modern craftspeople, designers and outfitters working in Scotland.
A new online hub launches today on nms.ac.uk, offering detailed images and descriptions of the new acquisitions along with three new films featuring interviews with designers and makers.
In 2021, kilt-making and sporran-making were added to the Heritage Craft Association's red list of endangered crafts, and sgian dubh-making was added in 2023. The pieces collected for this project are representative of a specialist but vibrant industry which is attracting new makers, creating jobs and utilising technological advancements whilst preserving the knowledge of traditional techniques. Now held in the National Collection, the outfits document these highly-specialised skills as they continue to evolve and adapt.
William Grant Foundation Research Fellow, Rosie Waine said:
"There is a perception that Highland dress never changes, but through working with contemporary makers, this project highlights a flourishing living tradition that continues to adapt and evolve. These new acquisitions showcase incredibly skilled makers and production from across the country. They join our existing collection to provide a comprehensive timeline of Highland dress from the 17th century to the modern day, highlighting its role as an icon of an ever changing Scotland."
Once considered an emblem of clan society, the more modern tartan fashions reflect contemporary concerns. Lochcarron of Scotland's 'Hame' tartan was designed during the COVID-19 pandemic to capture feelings of homecoming and comfort. These designs highlight a 21st century approach to production with most new tartan being created through Computer Assisted Design (CAD) programmes such as ScotWeave.
Sustainability and efficiency throughout the design process is a key concern for modern mills and makers. A tartan t-shirt and kilt by Prickly Thistle Scotland offer a fresh take on Highland dress for women whilst promoting small batch production. National Museums Scotland has also acquired an antique boat shuttle (a tool used in the weaving process) from the firm, laser engraved with the B Corp Certification mark which they were awarded in 2021.
A focus on zero waste design is demonstrated by a sgian dubh acquired from Gordon Nicolson Kiltmakers. The traditional knife is made from offcuts of African blackwood left over from the bagpipe-making process.
Nick Addington, CEO, William Grant Foundation said:
"William Grant Foundation has been delighted to support this significant work researching the history and development of Highland Dress. We are particularly pleased that this new contemporary collection at National Museums Scotland completes the story to the present day, showcasing connections to contemporary design and manufacturing and demonstrating how this iconic style continues to be worn and reimagined today."
National Museums Scotland holds objects spanning over five centuries of Highland dress in its collections, some of which are currently on loan to the V&A Dundee for their ground-breaking exhibition Tartan which demonstrates an enduring appetite for the iconic pattern. The origins of tartan and the roots of Scotland's relationship with its national dress are explored further in the book Highland Style: Fashioning Highland dress, c.1745-1845 authored by project lead Dr Rosie Waine and published in 2022.
Visit the online hub at www.nms.ac.uk/TartanToday
Notes to editors
For further information and images contact media@nms.ac.uk
National Museums Scotland is one of the leading museum groups in the UK and Europe and it looks after collections of national and international importance. The organisation provides loans, partnerships, research and training in Scotland and internationally. Our individual museums are the National Museum of Scotland, the National Museum of Flight, the National Museum of Rural Life and the National War Museum. The National Museums Collection Centre in Edinburgh houses conservation and research facilities as well as collections not currently on display.
Twitter: @NtlMuseumsScot
Facebook: www.facebook.com/NationalMuseumsScotland
Instagram: @NationalMuseumsScotland
2. Bheireadh Oifis nam Meadhanan eadar-theangachadh Gàidhlig den bhrath-naidheachd seachad do bhuidhinn mheadhanan bharantaichte. Cuiribh fios do dh'Oifis nam Meadhanan airson bruidhinn air cinn-latha freagarrach.