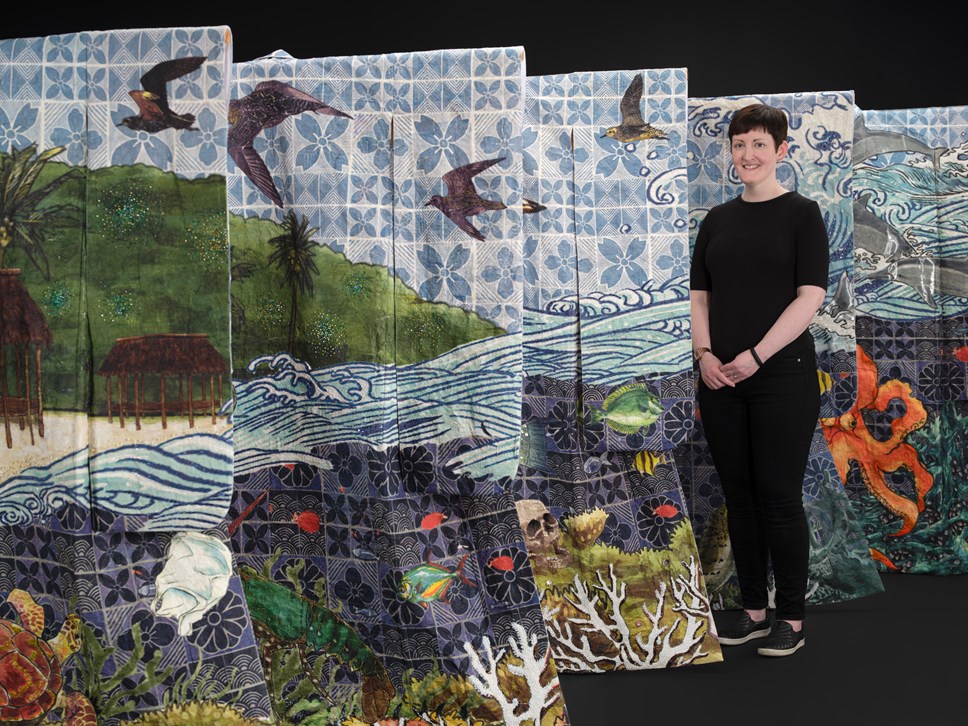 National Museums Scotland acquires Yuki Kihara artwork ahead of Rising Tide exhibition
National Museums Scotland has acquired a major artwork by internationally renowned Pacific artist, Yuki Kihara, thanks to Art Fund support.
A selection of press images are available here.
サ–モアのうた' (Sāmoa no uta) – A Song About Sāmoa – Vasa (Ocean) features a set of five siapo (barkcloth) kimono decorated with Samoan and Japanese cultural motifs.
A Song About Sāmoa - Vasa (Ocean) will be shown for the first time in the National Museum of Scotland's upcoming free exhibition 'Rising Tide: Art and Environment in Oceania' which opens 12 August. The artwork will sit alongside work by other contemporary artists such as George Nuku, Angela Tiatia and artists from Erub Arts, made in response to the most important and pressing issue of our time, climate change.
Dr Ali Clark, Senior Curator Oceania and the Americas said:
The kimono and the discussions they inspire makes this an incredible acquisition for the National Collection. Across five beautiful artworks, the artist explores questions of identity, sexuality and gender; colonial histories and legacies; and ecology and climate change. We're thrilled to welcome the work of Yuki Kihara into our collection and look forward to putting them on display in our forthcoming exhibition, Rising Tide: Art and Environment in Oceania.
Jenny Waldman, Director, Art Fund, said:
Yuki Kihara's stunning series of kimono offers a window into a different culture and perspective and opens up new conversations. I'm delighted that Art Fund has been able to support National Museums Scotland to bring this fabulous work into their public collection to be enjoyed by audiences from Scotland and beyond as part of 'Rising Tide: Art and Environment in Oceania' in August.
Yuki Kihara is an interdisciplinary artist of Japanese and Sāmoan descent whose work challenges cultural stereotypes and dominant norms of sexuality and gender. Her work is held by museums and galleries across the world including the British Museum, Museum of New Zealand Te Papa Tongarewa, The Los Angeles County Museum of Art and The Metropolitan Museum of Art.
A Song About Sāmoa - Vasa (Ocean) depicts a tsunami threatening to submerge a beach. The sprouting coconuts floating in the sea represent a hopeful future in contrast with the pollution and environmental damage shown beneath the surface of the water.
The five kimono were produced collaboratively, with Yuki consulting designers, artisans and family members both in Sāmoa and Japan to research kimono and siapo production. The 60 metres of siapo needed for the kimono were made by Samoan siapo artisans and a Japanese nihonga illustrator assisted with the designs. Their production combines Japanese and Samoan textile traditions to reflect Yuki's own lived experience.
Artist, Yuki Kihara said:
The work aims to reframe the Vā (space that connects) between Japan and the Pacific and specifically Sāmoa, taking an Indigenous interpretation of trans-Pacific identity, history, and the environment while referencing my own interracial Sāmoan and Japanese heritage as a point of conceptual departure.
This artwork represents the first phase in a five-year project by the artist which will consist of twenty siapo kimono presented in four sets of five, each with a specific theme.
モアのうた' (Sāmoa no uta) – A Song About Sāmoa – Vasa (Ocean) will feature in Rising Tide: Art and Environment in Oceania (12 Aug 2023 – 14 Apr 2024), a free exhibition at the National Museum of Scotland as part of the Edinburgh Art Festival.
edinburghartfestival.com/eaf-2023/
@edartfest
#EdArtFest
Ends
Notes to editors
Notes to editors
Further information and images from:   
National Museums Scotland Press Office on 0131 247 4088 or email media@nms.ac.uk
  1. National Museums Scotland is one of the leading museum groups in the UK and Europe and it looks after collections of national and international importance. The organisation provides loans, partnerships, research and training in Scotland and internationally. Our individual museums are the National Museum of Scotland, the National Museum of Flight, the National Museum of Rural Life and the National War Museum. The National Museums Collection Centre in Edinburgh houses conservation and research facilities as well as collections not currently on display.
Twitter: @NtlMuseumsScot 
Facebook: www.facebook.com/NationalMuseumsScotland 
Instagram: @NationalMuseumsScotland 
2. Bheireadh Oifis nam Meadhanan eadar-theangachadh Gàidhlig den bhrath-naidheachd seachad do bhuidhinn mheadhanan bharantaichte. Cuiribh fios do dh'Oifis nam Meadhanan airson bruidhinn air cinn-latha freagarrach. 
3. Art Fund is the national fundraising charity for art. It provides millions of pounds every year to help museums to acquire and share works of art across the UK, further the professional development of their curators, and inspire more people to visit and enjoy their public programmes. Art Fund is independently funded, supported by Art Partners, donors, trusts and foundations and the 135,000 members who buy the National Art Pass, who enjoy free or discounted entry to over 850 museums, galleries and historic places, 50% off major exhibitions, and receive Art Quarterly magazine. Art Fund also supports museums through its annual prize, Art Fund Museum of the Year. The winner of Art Fund Museum of the Year 2022 is Horniman Museums & Gardens. www.artfund.org