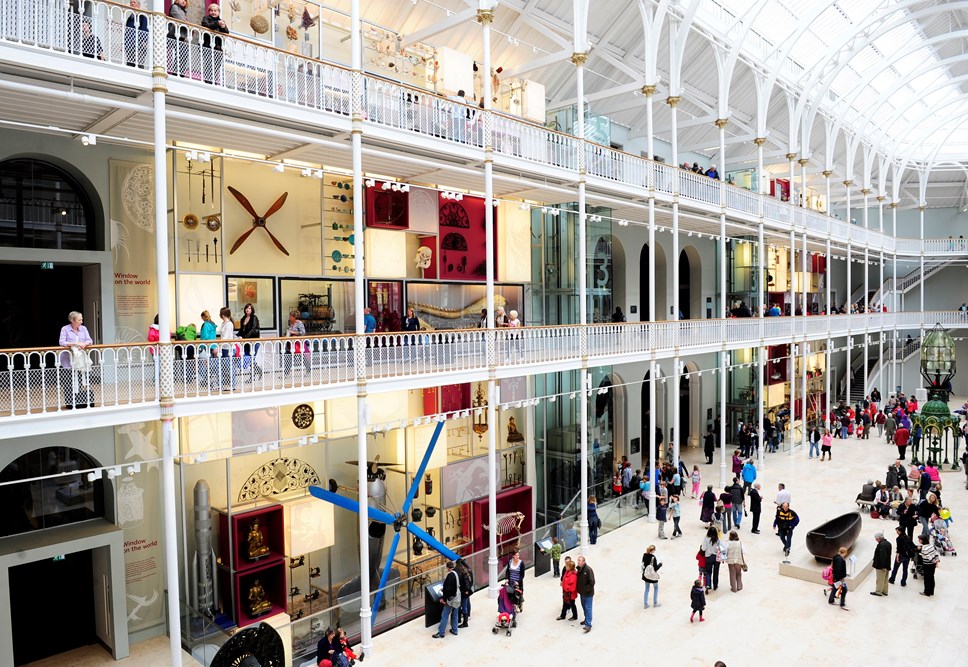 New Trustees appointed to the Board of National Museums Scotland
The Minister for Culture, Europe and International Development, Ms McKelvie, today announced the appointment of Manuel Fernández Götz and Richard Oram to the Board of Trustees of National Museums Scotland.
Manuel Fernández Götz is Abercromby Professor of Archaeology at the University of Edinburgh, where he has also served as Head of the Archaeology Department. His main research areas are late prehistoric and Roman societies, specialising in topics such as the archaeology of early cities, migrations, and battlefields. Manuel has carried out fieldwork in the United Kingdom, Germany, Spain and Croatia, and authored over 230 publications. His research has been recognised by various distinctions and awards, including the Philip Leverhulme Prize and Royal Society of Edinburgh's Thomas Reid Medal in Arts, Humanities, and Social Sciences. He has been a board member of the European Association of Archaeologists and the Young Academy of Europe. His memberships and fellowships include, among others, the Academia Europaea, the Young Academy of Scotland, and the Societies of Antiquaries of Scotland and London.
Richard Oram is Chair of Scottish Medieval and Environmental History at the University of Stirling and formerly Dean of Arts and Humanities there. He brings broad experience in senior academic management, coupled with a rich and successful track record of public history and partnership working with local communities in exploring and interpreting their histories and heritage. With an interdisciplinary background in medieval history, archaeology and architectural history, he has researched and published extensively on Scotland's medieval culture and society within the broader context of the North Atlantic World, and especially on the interaction between humans and their wider environment.
Appointment
The appointments will be for four years and will run from 1 October 2023 to 30 September 2027.
The appointments are regulated by the Ethical Standards Commissioner.
Remuneration
The appointments are part-time with a time commitment of up to 12 days per year. Appointments to the Board of National Museums Scotland are not remunerated.
Other ministerial appointments
Manuel Fernández Götz and Richard Oram do not hold any other public appointments.
Political activity
All appointments are made on merit and political activity plays no part in the selection process. However, in accordance with the original Nolan recommendations, there is a requirement for appointees' political activity within the last five years (if there is any to be declared) to be made public.
Manuel Fernández Götz and Richard Oram have had no political activity within the last five years.
Background
National Museums Scotland is one of the leading museums groups in Europe. It cares for a multi-disciplinary collection of over 12 million objects, bringing together the arts and sciences, and the cultures of Scotland and the world, alongside the diversity of the natural world. The organisation has approximately 460 staff across five sites. It is a Scottish Charity (no. SC 011130) and a Non-Departmental Public Body (NDPB) sponsored and supported through Grant-in-Aid by the Scottish Government, and governed by an independent Board of Trustees. It receives around £25 million of Scottish Government funding annually. National Museums Scotland's priorities reflect its statutory duties to care for the items it holds, and to make them accessible through providing education, encouraging research, and promoting public awareness. Its four museums (the National Museum of Scotland on Chambers Street in Edinburgh, the National War Museum in Edinburgh Castle, the National Museum of Flight in East Lothian and the National Museum of Rural Life near East Kilbride) are enjoyed by millions of local and international visitors each year.
As a national centre of excellence, the organisation is committed to widening access to and participation with its collections, reaching out across Scotland, the UK and internationally. This includes an extensive programme of: touring exhibitions; loans; community-based partnership projects, often within disadvantaged areas; training and skills development, including developing young people; the provision of advice and support to the museum sector; administering the National Fund for Acquisitions; and operating the Treasure Trove scheme. The cultural, social, educational and economic value of its work is wide-reaching, creating impact on people's lives through sharing the fascinating stories of the millions of remarkable objects it cares for in Scotland's National Collection.
National Museums Scotland operates within the context of the Scottish Government's national outcomes and strategic objectives.
Read further information.
Notes to editors
National Museums Scotland is one of the leading museum groups in the UK and Europe and it looks after collections of national and international importance. The organisation provides loans, partnerships, research and training in Scotland and internationally. Our individual museums are the National Museum of Scotland, the National Museum of Flight, the National Museum of Rural Life and the National War Museum. The National Museums Collection Centre in Edinburgh houses conservation and research facilities as well as collections not currently on display.
Twitter: @NtlMuseumsScot
Facebook: www.facebook.com/NationalMuseumsScotland
Instagram: @NationalMuseumsScotland
The National Museum of Scotland is the most popular attraction in the country outside of London (source: Association of Leading Visitor Attractions). The National Museum of Scotland was awarded 'Gold' Level Green Tourism Visitor Attraction status in 2016.
Bheireadh Oifis nam Meadhanan eadar-theangachadh Gàidhlig den bhrath-naidheachd seachad do bhuidhinn mheadhanan bharantaichte. Cuiribh fios do dh'Oifis nam Meadhanan airson bruidhinn air cinn-latha freagarrach.