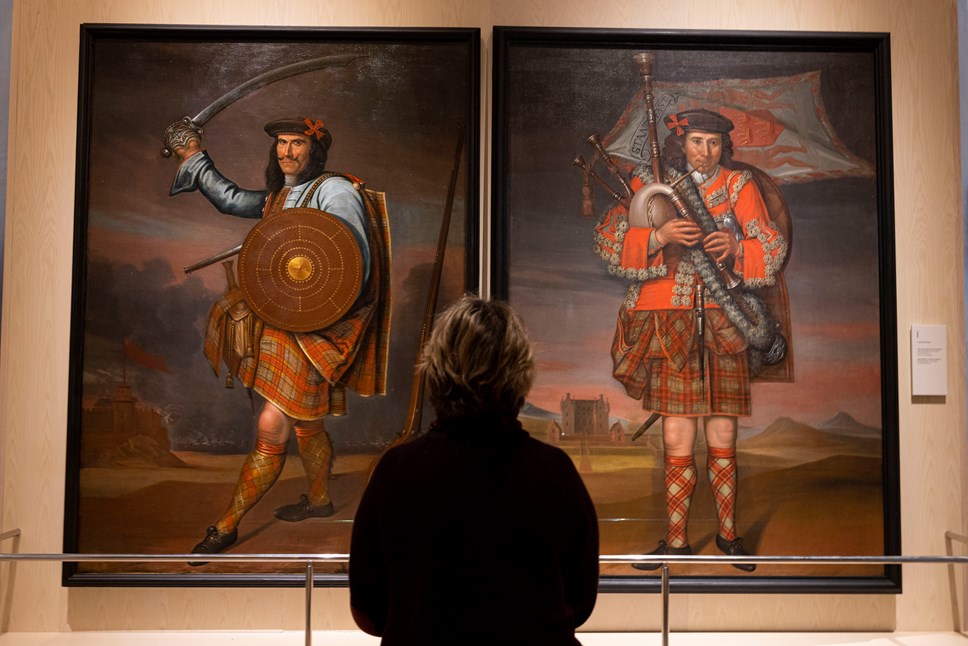 18th century clan portraits go on display at the National Museum of Scotland
Two portraits of important members of the Chief of Clan Grant's household are now on display in the National Museum of Scotland.
The oil paintings by Richard Waitt were commissioned in 1713 by Alexander, the Laird of Grant, as part of a larger series depicting prominent clan members. They were created for Castle Grant, the chief's seat near Grantown-on-Spey, intended to impress visitors and convey the Laird's traditional authority and status as a Highland chieftain.
Shown wearing distinctive Highland dress, the subjects are 'The Piper' and 'The Champion to the Laird of Grant'. The bagpipe and the basket-hilted sword are symbols of their ceremonial positions, emblematic of traditional clan values and customs.
The 'Piper' is William Cumming who was from at least seven generations of Cummings pipers to the Grants. He flies the heraldic banner of the Grants, with Castle Grant in the background. The 'Champion' is Alasdair Mòr Grant, the strongest fighter in the clan, who managed the Laird's timber business. His combined roles hint to a changing clan society as the shift in land use saw Highland chiefs become landlords.
Principal Curator, Renaissance and Early Modern History, Dr Anna Groundwater said:
"We are grateful to Reidhaven Trust for the long-term loan of Richard Waitt's portrait of 'The Champion to the Laird of Grant'. We are delighted that it has been reunited with 'The Piper' and is now on permanent display, as they once were in Castle Grant. This is not a romanticised version of an imagined past – the figures in their Highland dress are documented as they looked at the time. Together they provide an insight into clan society from a time when this way of life was on the wane."
Both works are now on display in the Scotland Transformed gallery at the National Museum of Scotland. They accompany objects relating to the Jacobite challenges, including Bonnie Prince Charlie's silver travelling canteen, a targe that also belonged to the prince, and regimental colours from both Jacobite and Hanoverian regiments carried into battle at Culloden.
Notes to editors
Notes to editors

National Museums Scotland is one of the leading museum groups in the UK and Europe and it looks after collections of national and international importance. The organisation provides loans, partnerships, research and training in Scotland and internationally. Our individual museums are the National Museum of Scotland, the National Museum of Flight, the National Museum of Rural Life and the National War Museum. The National Museums Collection Centre in Edinburgh houses conservation and research facilities as well as collections not currently on display.

Twitter: @NtlMuseumsScot
Facebook: www.facebook.com/NationalMuseumsScotland
Instagram: @NationalMuseumsScotland


BheireadhOifisnamMeadhananeadar-theangachadhGàidhlig den bhrath-naidheachdseachad do bhuidhinnmheadhananbharantaichte. Cuiribhfios do dh'OifisnamMeadhananairsonbruidhinn air cinn-lathafreagarrach.