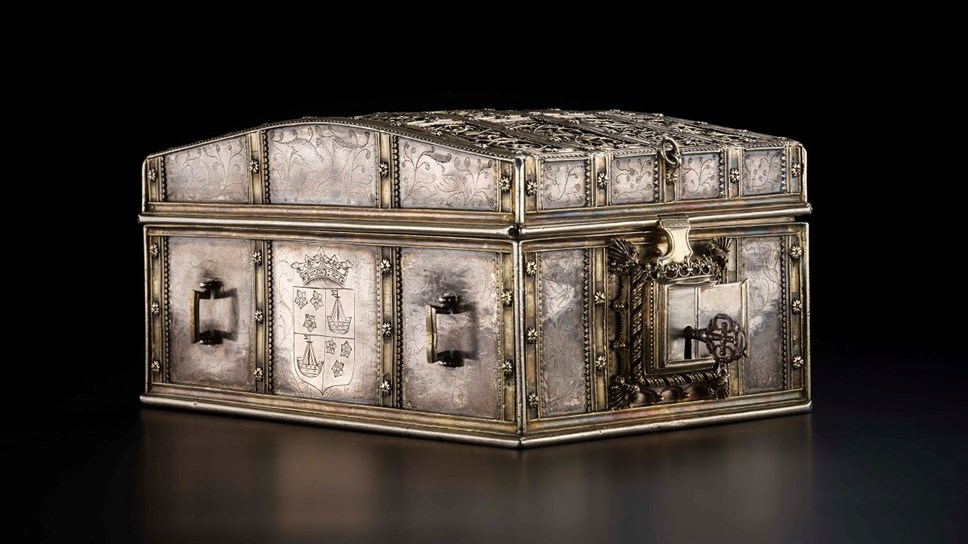 Rare French silver casket believed to have belonged to Mary, Queen of Scots is acquired for the nation
A silver casket believed to have been owned by Mary, Queen of Scots has been acquired for the nation. An iconic piece of Scotland's national heritage, it goes on display at the National Museum of Scotland in Edinburgh from Thursday 19 May.
Images can be downloaded here. A 3D model can be viewed here.

nms.ac.uk/silvercasket
Made in Paris, probably between 1493 and 1510, the casket is a superb and extremely rare work of early French silver, very little of which survives, even in France. It is likely that its long-standing association with Mary has kept it preserved for over 450 years.
For three centuries, it was owned by the family of the Dukes of Hamilton, following its acquisition, around 1674, by Anne, Duchess of Hamilton. According to a handwritten note stored with it from the late 17th century, she bought the casket, previously owned by Mary, Marchioness of Douglas, on the understanding that it had belonged to Mary, Queen of Scots.
The casket has now been acquired by National Museums Scotland from Lennoxlove House Ltd, its owner since the middle of the 20th century. It has been acquired for £1.8 million thanks to support from the National Heritage Memorial Fund, Art Fund, the Scottish Government and several trusts, foundations and individual donors. The sale was managed by Sotheby's.
The note records the belief that this is the casket which played a dramatic role in Mary's downfall when, in December 1568, a similar casket was produced at a hearing ordered by Elizabeth I against Mary at Westminster. This contained what have become known as the Casket Letters. These love poems and letters, allegedly from Mary to her third husband, the Earl of Bothwell, implicated them both in a conspiracy to murder her second husband, Lord Darnley.
Dr Chris Breward, Director of National Museums Scotland said:
"This extraordinary casket is truly one of Scotland's national treasures. Venerated as a relic of Mary for centuries, it is believed to represent a momentous and disastrous moment in her turbulent life. Beyond this, the magnificence of the piece speaks to a queen at the height of her powers, wealth and position. I am delighted that this beautiful object has been acquired for the nation and I am grateful to the National Heritage Memorial Fund, Art Fund, and all the individuals whose generosity has made this acquisition possible."

It is thought that the casket was given to Mary by her first husband, François II of France, and came to Scotland with her in 1561 after his death in 1560. Her inventories from this time list multiple examples of precious jewellery and other such valuable objects.
A casket first appears in the records following Mary's arrest in 1567 by the rebellious Confederate Lords, when it is discovered in the hands of Lord Bothwell's servant. It was brought before the Scottish Privy Council where its lock was struck off to reveal its contents. Precisely what these were at that moment is unknown. However, a year later, when the Earl of Moray dramatically produced the same casket at Westminster, it now contained the damning Casket Letters.
The authorship of the letters remains a subject of debate, but it is widely thought that they were doctored. Following the hearing at Westminster, Mary remained in English captivity for 19 years, until she was executed in 1587 for her involvement in the Babington Plot to assassinate Elizabeth I, and place Mary on the English throne.
Dr Simon Thurley CBE, Chair of the National Heritage Memorial Fund, which contributed £810,000 towards the acquisition, said:
"We are really excited to support the acquisition of this remarkable casket. Not only will Memorial Funding bring an object of great national importance into public ownership, it will bring to life the story and secrets of the casket and of Mary Queen of Scots to a whole new generation of visitors at the National Museums of Scotland ."
Jenny Waldman, Director of Art Fund, said:
"We are thrilled to help this exquisite casket join the museum's rich collection of objects associated with Mary, telling the story of one of the most famous figures in Scottish history. Thanks to our members, Art Fund is able to support the acquisition of objects of national importance, benefitting present and future audiences."
Culture Minister Neil Gray said:
"I'm delighted that the Scottish Government's contribution of £200,000 to the National Museums Scotland Acquisitions Fund has helped to secure this exquisite casket for the nation. Quite apart from the colourful history associated with the item, given the belief that it belonged to Mary, Queen of Scots, the silver casket is a stunning work of art in its own right. I hope people will make a point of going to see the casket as well as all the many other treasures on display in the National Museum of Scotland."
A spokesperson for Lennoxlove House Ltd said:
"Although we are sad that the casket is leaving Lennoxlove House, its sale will enable the long-term maintenance of the House and its contents. We are delighted that National Museums Scotland have acquired it for the nation and that millions of visitors to the National Museum of Scotland will now be able to enjoy its exceptional story and exquisite beauty."
Find out more about Mary, Queen of Scots and some of the objects associated with her in National Museums Scotland's collection here
Notes to editors
National Museums Scotland is one of the leading museum groups in the UK and Europe and it looks after collections of national and international importance. The organisation provides loans, partnerships, research and training in Scotland and internationally. Our individual museums are the National Museum of Scotland, the National Museum of Flight, the National Museum of Rural Life and the National War Museum. The National Museums Collection Centre in Edinburgh houses conservation and research facilities as well as collections not currently on display.


The breakdown of funding for the acquisition of the casket is as follows:
| | |
| --- | --- |
| Funder | Amount |
| National Museums Scotland Acquisitions Fund* | £200,000 |
| National Museums Scotland Charitable Trust | £250,000 |
| National Heritage Memorial Fund | £810,000 |
| Art Fund | £324,000 |
| Trusts, foundations and individual donors | £205,834 |
| Total | £1,789,834 |
* Provided by the Scottish Government
3. The National Heritage Memorial Fund (NHMF) was set up in 1980 to save the most outstanding parts of our national heritage, in memory of those who have given their lives for the UK. 
@NationalHeritageMemorialFund   
#NationalHeritageMemorialFund
4. Art Fund is the national fundraising charity for art. It provides millions of pounds every year to help museums to acquire and share works of art across the UK, further the professional development of their curators, and inspire more people to visit and enjoy their public programmes. In response to Covid-19 Art Fund made £3.6 million in urgent funding available to support museums through reopening and beyond, including Respond and Reimagine grants to help meet immediate need and reimagine future ways of working. A further £2 million has been made available in 2021 for Reimagine projects. Art Fund is independently funded, supported by Art Partners, donors, trusts and foundations and the 130,000 members who buy the National Art Pass, who enjoy free entry to over 240 museums, galleries and historic places, 50% off major exhibitions, and receive Art Quarterly magazine. Art Fund also supports museums through its annual prize, Art Fund Museum of the Year. The winner of Art Fund Museum of the Year 2021 is Firstsite in Colchester.
5. Lennoxlove House is located on the outskirts of Haddington and surrounded by the rolling East Lothian countryside overlooks the vista of the Lammermuir Hills. Lennoxlove House welcomes visitors for fully escorted guided tours to experience the centuries-old architecture, paintings and antiques, and learn about its historical past and the families who have lived there. Guided tours of Lennoxlove House are available on Wednesday, Thursday and Sunday afternoons between Easter and the end of October.
6. Bheireadh Oifis nam Meadhanan eadar-theangachadh Gàidhlig den bhrath-naidheachd seachad do bhuidhinn mheadhanan bharantaichte. Cuiribh fios do dh'Oifis nam Meadhanan airson bruidhinn air cinn-latha freagarrach.here