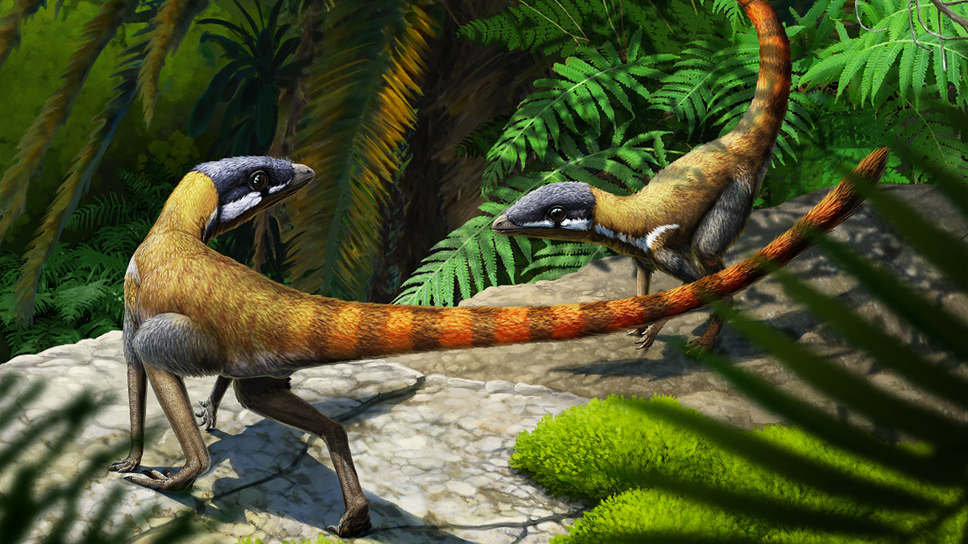 Triassic specimen found to be early relative of pterosaurs a century after its discovery
A new study of a tiny Triassic fossil reptile first discovered over 100 years ago in the north east of Scotland has revealed it to be a close relative of the species that would become pterosaurs – iconic flying reptiles of the age of the dinosaurs.
In a new paper published in Nature, a team of scientists led by Dr Davide Foffa, Research Associate at National Museums Scotland, and funded by the Royal Commission for the Exhibition of 1851, have used Computed Tomography (CT) to provide the first accurate whole skeleton reconstruction of Scleromochlus taylori. The results reveal new anatomical details that conclusively identify it as a close pterosaur relative. It falls within a group known as Pterosauromorpha, comprising an extinct group of reptiles called lagerpetids together with pterosaurs.
Living approximately 240 -210 million years ago, lagerpetids were a group of relatively small (cat or small dog-sized) active reptiles. Scleromochlus was smaller still at under 20 centimetres in length. The results support the hypothesis that the first flying reptiles evolved from small, likely bipedal ancestors.
The finding settles a century-long debate. There had previously been disagreement as to whether the reptile, Scleromochlus, represented an evolutionary step in the direction of pterosaurs, dinosaurs or else some other reptilian offshoot.
The fossil of Scleromochlus is poorly preserved in a block of sandstone, which has made it difficult to study in sufficient detail to properly identify its anatomical features. The fossil is one of a group known as the Elgin Reptiles, comprising Triassic and Permian specimens found in the sandstone of the Morayshire region of north east Scotland around the town of Elgin.
The specimens are held mostly in the collections of National Museums Scotland, Elgin Museum and the Natural History Museum. The latter holds Scleromochlus, which was originally found at Lossiemouth.
Dr Davide Foffa, Research Associate at National Museums Scotland and lead author of the paper said:
"It's exciting to be able to resolve a debate that's been going on for over a century, but it is far more amazing to be able to see and understand an animal which lived 230 million years ago and its relationship with the first animals ever to have flown. This is another discovery which highlights Scotland's important place in the global fossil record, and also the importance of museum collections that preserve such specimens, allowing us to use new techniques and technologies to continue to learn from them long after their discovery."
Professor Paul Barrett at the Natural History Museum said:
"The Elgin reptiles aren't preserved as the pristine, complete skeletons that we often see in museum displays. They're mainly represented by natural moulds of their bone in sandstone and – until fairly recently – the only way to study them was to use wax or latex to fill these moulds and make casts of the bones that once occupied them. However, the use of CT scanning has revolutionized the study of these difficult specimens and has enabled us to produce far more detailed, accurate and useful reconstructions of these animals from our deep past."
Professor Sterling Nesbitt at Virgina Tech said:
"Pterosaurs were the first vertebrates to evolve powered flight and for nearly two centuries, we did not know their closest relatives. Now we can start filling in their evolutionary history with the discovery of tiny close relatives that enhance our knowledge about how they lived and where they came from"
In addition to National Museums Scotland, the Natural History Museum and Virginia Tech, the study also involved the Universities of Birmingham, Bristol and Edinburgh as well as the Chinese Academy of Sciences.
Scotland claimed another special milestone in pterosaur history earlier this year with the unveiling of Dearc Sgithanach, an unusually complete and well-preserved fossil discovered on the Isle of Skye and the largest pterosaur known to the Jurassic period.


Bruce Blacklaw, National Museums Scotland Press Office on 0131 247 4165 or b.blacklaw@nms.ac.uk
Notes to editors
About National Museums Scotland
National Museums Scotland is one of the leading museum groups in the UK and Europe and it looks after collections of national and international importance. The organisation provides loans, partnerships, research and training in Scotland and internationally. Our individual museums are the National Museum of Scotland, the National Museum of Flight, the National Museum of Rural Life and the National War Museum. The National Museums Collection Centre in Edinburgh houses conservation and research facilities as well as collections not currently on display.
2. Bheireadh Oifis nam Meadhanan eadar-theangachadh Gàidhlig den bhrath-naidheachd seachad do bhuidhinn mheadhanan bharantaichte. Cuiribh fios do dh'Oifis nam Meadhanan airson bruidhinn air cinn-latha freagarrach.
3. The Natural History Museum is both a world-leading science research centre and the most-visited indoor attraction in the UK last year. With a vision of a future in which both people and the planet thrive, it is uniquely positioned to be a powerful champion for balancing humanity's needs with those of the natural world.
It is custodian of one of the world's most important scientific collections comprising over 80 million specimens accessed by researchers from all over the world both in person and via over 30 billion digital data downloads to date.
The Museum's 350 scientists are finding solutions to the planetary emergency from biodiversity loss through to the sustainable extraction of natural resources.
The Museum uses its global reach and influence to meet its mission to create advocates for the planet - to inform, inspire and empower everyone to make a difference for nature. We welcome millions of visitors through our doors each year, our website has had 17 million visits in the last year and our touring exhibitions have been seen by around 20 million people in the last 10 years.