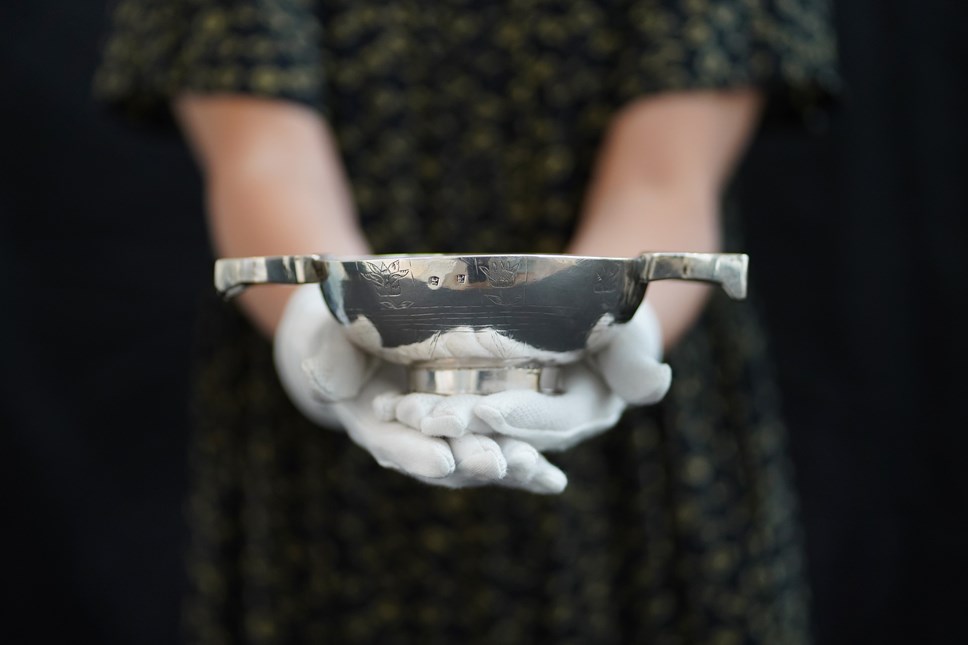 Uniquely Scottish Silver
Uniquely Scottish Silver
5 August 2023 to 26 May 2024
National Museum of Scotland, Chambers Street, Edinburgh
#UniquelyScottishSilver
A selection of press images are available here.
A new display at the National Museum of Scotland, Uniquely Scottish Silver (5 August 2023 to 26 May 2024), will showcase a range of objects highlighting Scottish designs and provide an insight into how people used them.
The display will bring together five distinctively Scottish designs: mazers, quaichs, thistle cups, ovoid urns and heart brooches. While some of these objects survive in plentiful numbers, others are amongst the earliest and rarest survivals within the Scottish silver smiths' craft.
Lyndsay McGill, Curator of Renaissance and Early Modern Scottish History said:
"During the Renaissance and Early Modern period (about 1450-1750) Scottish craftsmen designed and produced a wealth of silver artefacts. While most designs were influenced by contemporary British and European fashions, the country's silversmiths also created a number of forms unique to Scotland, and that's what the display is about. These items were owned and used by people from many walks of life. Some objects were sentimental and held meaning, while others signified the latest styles."
Highlights of the display include thistle cups which were a relatively short-lived phenomenon from the 1680s to 1720s, but a distinctively Scottish one, with their inverted bell-shape and prominent lobes to the bottom half of the cup giving the impression of a thistle head. These designs reveal that Scottish silversmiths were innovative in their work and that they added their own twist to create a remarkable Scottish form of silverware.
The display includes pieces from the 16th to the early 20th centuries, some of which are instantly recognizable as Scottish including quaichs and heart brooches, as well as rarer items such as thistle cups and mazers – only nine Scottish mazers are known to survive.
Also on display will be a futuristic looking ovoid urn, which, thanks to some detective work by researchers, is now believed to have been used for serving coffee rather than tea, as had previously been thought.
Of the 43 items in the display, Lyndsay says that a particular favourite is a quaich made by William Scott in Aberdeen around 1681:
"It's a tiny quaich that fits in the palm of your hand and is engraved with parrots and flowers. Scott presumably took inspiration from pattern books or books on the natural world. It's a wonderful example of his delicate craftsmanship and creativity – it's quite beautiful and I look forward to visitors getting the rare chance to see it."
Uniquely Scottish Silver runs from 5 August 2023 until 26 May 2024. Admission is free.